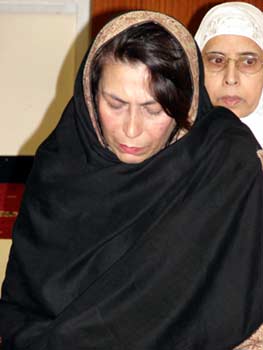 The late Pakistani pioneer Benazir Bhutto's sister Ms Sanam Bhutto visited the Minhaj ul Quran International centre on Romford Road in London on Saturday 10th February 2008.
Ms Sanam Bhutto along with members of the Bhutto family joined members of the public and workers of Pakistan People's Party in saying prayers for the late Ms Benazir Bhutto who died on 27th December 2007 in a suicide attack in Rawalpindi in Pakistan.
The gathering attended by prominent members of the Pakistan People's Party opened with recitations of sacred verses from the Quran. Riaz Khan Secretary-General of Pakistan People's Party UK told listeners "we pray for our beloved leader Benazir Bhutto and her family especially for the well being of her sister our honoured guest Ms Sanam Bhutti who is amongst us today"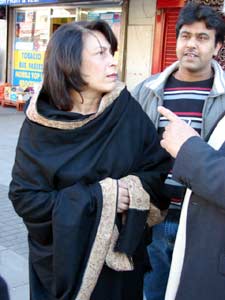 Imam Muhammad Sadiq Quershi of the Minhaj ul Quran centre told listeners "the late Zulfiqar Ali Bhutto raised the slogan of 'clothing, food and shelter' when he first commenced with his mission in serving the poor and destitute people of Pakistan. In our era the torchbearer of his legacy the slain Benazir Bhutto continued with his mission moving swiftly to it's destination until her tragic demise". Mr Qureshi said "today we are here to offer our final prayers after forty days of mourning" Traditionally prayers are said by Muslims after forty days of the deceased person's departure from this world. "We pray that with the good intention that she had may her peaceful mission continue" said Imam Qureshi.
As journalists crammed around in desperation to take images Ms Sanam Bhutto raised her hands in a final supplication lead by Imam Sadiq Qureshi and joined by hundreds of well-wishers and supporters of Ms Benazir Bhutto. Ms Sanam Bhutto was hurriedly escorted to her vehicle by close aides.
This report is NOT subject to copyright laws and may be utilised by the local press. You may print or copy it or utilise it for research, if the latter, please notify us beforehand.
Muhammad Asif Shakoor
External Affairs Secretary
Minhaj ul Quran International Centre
London, UK