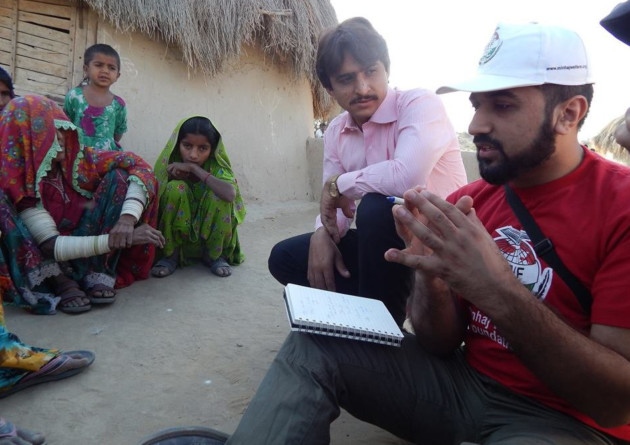 Adnan meets Tharparkar families to see what more can be done to help (Pic by MWF)
The Forest Gate branch of Minhaj Welfare Foundation (MWF) sent a representatives to Pakistan.
The trip was to assess MWF's progress in humanitarian projects there.
The charity is part of the Minhaj-ul-Quran organisation, which has a mosque on Romford Road.
On March 9, Newham's Minhaj-ul-Quran sent communication liaison officer, Adnan Sohail, who said his visit was a "real eye-opener".
"My 14-day visit to Pakistan was part of a field visit on behalf of MWF, which has been working in the developing world since 1989," he said. "Part of my visit included a look at some of our key projects in education, health care and water."
During his trip, Adnan travelled to Tharparkar in Sindh, a region in south east Pakistan that was hit with a severe drought through 2013 and 2014 that killed 45 children.
Since March 2014, it has had severe food and water shortages.
The MWF organised fundraising scheme in which Newham muslims gave cash for emergency relief and water facilities.
As a result, MWF gave emergency aid to more than 1,000 families and built 1,000 clean water facilities, helping more than 8,000 families.
"The people of Tharparkar are living in abject poverty – the only thing they want is clean water," said Adnan. "I was glad to see the donations and efforts of the donors being well-spent on providing clean water to the poor and needy in Tharparkar."
As well as his visit to Sindh, Adnan crossed the border to Punjab, India where MWF supports more than 630 primary and secondary schools.
The MWF was founded in 1989 and is based in Lahore.
It was the first charity in Pakistan's history to arrange and fund mass-marriage ceremonies for the poor.
The largest ceremony had 25 couples, including four Christians, marrying on the same day at Minhaj University, Township.
The group shares is led by the head of Minhaj-ul-Quran, Dr Muhammad Tahir-ul-Qadri.
Dr Qadri famously issued a 600-page Fatwa (religious ruling) against terrorism in 2010, which condemned acts of terror as un-Islamic.
Source: http://www.newhamrecorder.co.uk