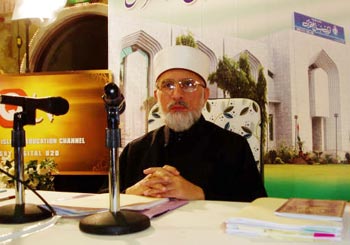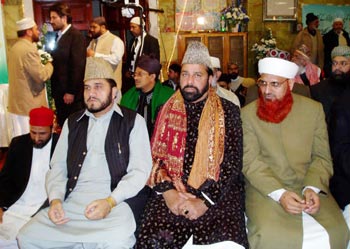 As the month of Safar draws to an end, the hearts of certain people, whether they are practicing or not, good or bad, feel a certain warmth that increases as each minute ticks by. Their eyes begin to twinkle. They are full of so much love and happiness that an onlooker will be confused into thinking it is near the end of Ramadhan and Eid is around the corner.
Eid of all Eids
Yes, for these 'lovers' Eid is certainly around the corner but it is not Eid-ul-Fitr nor Eid-ul-Adha; it is a greater Eid. This Eid has a much greater significance to them than a mere festival or tradition. It has a direct relation to the basic constituent of their faiths. This Eid is the Eid of all Eids; the culmination of all joys; it celebrates the night that is greater than Laila-tul-Qadr; the night when the Almighty revealed His most precious jewel to the world. This night is that of the birth of the Mercy of the Universe, Mustafa, Mujtaba, Murtadha, Muzammil, Mudathir, Taha, Yasin - the Holy Prophet Muhammad SAW. This Eid is Eid Mawlid-un-Nabi SAW.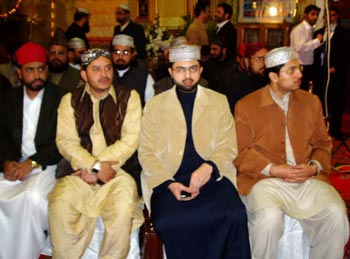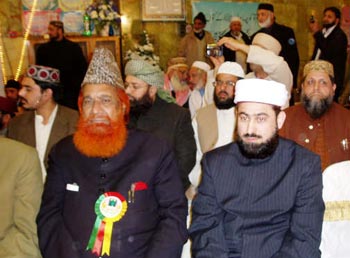 An example of such lovers who could not wait for the Holy month of Rabi-ul-Awwal any longer, held a spectacular conference to welcome the month of Rabi-ul-Awwal with the title 'Istiqbal-e-Milad Conference', on the last night of Safar.
Minhaj-ul-Quran International Birmingham gave such lovers an opportunity to express the feelings which could not be contained any longer. As it happened, feelings came exploding out of hearts through screams, chants and Salah and Salam.
The conference was held at Jami Masjid Ghamgol, Birmingham. It was shown live all over the world on QTV.
Is there a mosque big enough?
The turnout for the conference was totally unprecedented as the Ghamgol Mosque Birmingham is the largest Mosque in Europe and hearing news of its main hall being full does not happen. Yet, in this conference the public had packed into the hall to see and listen to Shaykh-ul-Islam Dr Muhammad Tahir-ul-Qadri. The main hall was so full that hundreds were forced to sit in the lower hall. The fact that it was a Monday evening with Mawlid conferences being held at the same venue on the two nights before adds further significance to the attendance. The ladies hall also housed a sizable audience that viewed the lecture from video screens.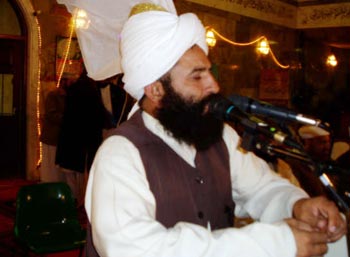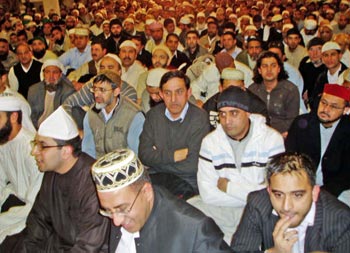 The participants came to listen to Shaykh-ul-Islam Dr Muhammad Tahir-ul-Qadri, some one who they have only recently discovered. With lectures of Shaykh-ul-Islam being telecast on QTV, Unity TV, Prime TV, ATV etc on a daily basis for the past year or so, Muslims across the country have not only become familiar with Shaykh-ul-Islam but have developed a deep attachment with him. This resulted in them taking the first opportunity available to listen to this miraculous speaker in person.
The challenge of the mass media is one that haunts the Muslim world with many simply resorting to banning the TV from their followers in order to preserve them from the evils that it emits. Shaykh-ul-Islam, fighting fire with fire, used the same media that others were boycotting to spread the true message of Islam. This started in his lectures being available around the globe in the forms of audio video cassettes, CDs, DVDs and on the internet and has now progressed into mass global broadcasts on TV Channels on a daily basis with audiences of millions at a time, together with regular live transmissions.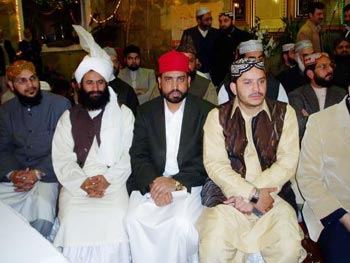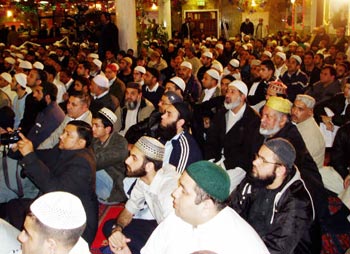 Guests
Along with Shaykh-ul-Islam, Sahabzada Hassan Muhy-ud-Din and Sahabzada Hussain Muhy-ud-Din attended the conference.
Many renowned scholars also attended the conference. All of them cannot be listed here but the main personalities were:
Pir Sayyed Bilal Chisti (Ali Pura Sharif) – Sajada Nasheen Ajmair Shareef
Pir Muhammad Munawwar Husayn Shah Jama'ati – Markazi Jama'at-e-Ahl-e-Sunnat Britain; Founder Unity TV
Mufti Gul Rahman Qadri – Mufti of UK
Mufti Abd-ur-Rasool Mansur al-Azhari – Muhaqqiq-ul-Asr
Allama Bustan Qadri – Sunni Confederation
Zahoor Niazi – Editor Daily Jang London
There were also many Qurra'a and Nasheed artists most notable of them were:
Qari Sayyed Sadaqat Ali – Khalifah of Qari Abdul Basit (Egypt)
Shabaz Qamar Fareedi - Pakistan
Muhammad Afzal Naushahi – Hassan-e-Minhaj
Dr Ghulam Murtaza
Qari Qamar Naveed
The gathering was mesmerised by the recitation of the Holy Quran by Qari Sayyed Sadaqat Ali. This was followed by Nasheeds by Shabaz Qamar Fareedi and Muhammad Afzal Naushahi.
Opening words
First of all Shaykh-ul-Islam explained that this is the first of a three part live Mawlid transmission to be telecast on QTV. The second will be the 23rd Annual International Mawlid Conference from Minar-e-Pakistan Lahore organised by Minhaj-ul-Quran International on the 12th night of Rabi-ul-Awwal/31st March. The third will be a Mawlid Conference in ARY Hall, Karachi.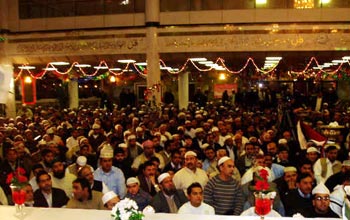 Shaykh-ul-Islam said that he praised QTV for continually and persistently chasing him up to record lectures which they subsequently air on QTV daily including the three day Dora of Sahih Bukhari from the same venue last year and the four day al-Hidayah 2006 with lectures of Shaykh-ul-Islam in English. He said QTV chose the date of this conference but I chose the venue. He said unlimited tribute is due to Sufi Abdullah who gave the Muslims of UK and Europe the finest of Mosques; and that he also provides his fullest support to holding such events at this great Mosque.
Shaykh-ul-Islam said that he does not shy away from telling things as how they are, nor does he hold back deserved praise for the servants of Deen. He said that the management of QTV is carrying out one of the greatest of services of the Deen by portraying the true version of Islam to the world. He said this is a great service of the Prophet SAW which this great family is undertaking on itself. He said they have been recording my lectures free of cost and have also been broadcasting them daily without taking a dime. He said live transmissions are extremely expensive yet QTV are always insisting on broadcasting my lectures live. This is a sign of their love for the service of Deen and to broadcast, night and day, the love of the Holy Prophet SAW.
Shaykh-ul-Islam welcomed the great scholars, Mashaikh, Qurra'a and Nasheed artists who were present.
Shaykh-ul-Islam also gave the great news to the world that he has translated Irfan-ul-Quran, his translation of the Quran, into English and that the English version will be coming out in the near future.
Lecture of Shaykh-ul-Islam
Only a few points of the lecture are briefly mentioned below.
Shaykh-ul-Islam began by mentioning one of numerous occasions in the Holy Quran where the birth of a Prophet is mentioned as a blessed day. Furthermore that Allah SWT sends salam on the day in which a prophet was born with specific references to Prophet Yahya AS and Prophet Isa (Jesus) AS.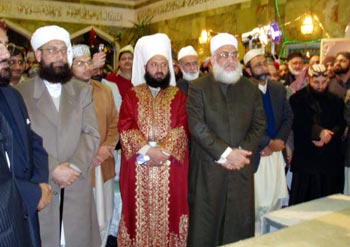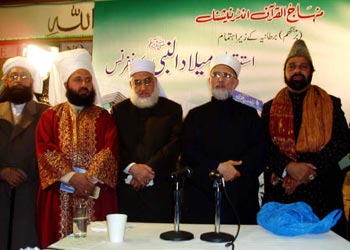 Shaykh-ul-Islam then went on to discuss salam in great detail, revealing many points that have never been discussed before.
Shaykh-ul-Islam electrified the audience by emphasising on the importance of mere love of the Prophet SAW, his SAW service and his SAW tawassul (intermediation), mentioning the Jewish boy who served the Prophet SAW without becoming a Muslim; then became a Muslim seconds before he died. The Prophet SAW saying that the boy was saved because of my intermediation. Shaykh-ul-Islam said I say the boy was saved due to the intermediation of the blessed shoes of the Holy Prophet SAW because he used to pick up the shoes of the Holy Prophet SAW while serving him SAW.
Shaykh-ul-Islam took up an existing viewpoint of shirk and applied it to salah- the peak of worship. He said prayer goes to pains in diverting the worshiper's full attention towards Allah through thana, qiyam, ruku' and sujud, but as soon as this is achieved Allah SWT orders the worshiper to turn his attention to the Prophet Muhammad and say 'assalamu alaika ayyuh an-Nabiyyu'– peace be upon you oh Prophet.
Attention is now diverted from Allah SWT. Should the worshiper concentrate on Allah SWT or on Prophet Muhammad SAW? Shaykh-ul-Islam said that this is the result of this concocted view of shirk. He said in reality, shirk is to divide 'one' into 'two' not the other way around. He said both are not two different directions but are the same one.
The mosque was continually shaken by enthralled participants who were releasing their emotions created by the many unique points, derivations and interpretations made by Shaykh-ul-Islam.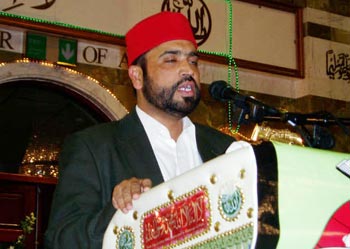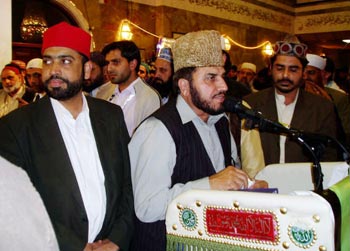 The program was concluded by Salah and Salam lead by Qari Sayyed Sadaqat Ali, Muhammad Afzal Naushahi and Shabaz Qamar Fareedi with the thousands of participants also sending salah and salam on the beloved Prophet SAW.
Final dua was performed by Pir Muhammad Munawwar Husayn Shah Jama'ati, Mufti Abd-ur-Rasool Mansur al-Azhari and Mufti Gul Rahman Qadri.
This conference had a quite an odd audience as the vast majority were not members or affiliates of Minhaj-ul-Quran International (MQI) but they seemed to be spellbound during the lecture of Shaykh-ul-Islam understanding and revelling upon the points of love of the Prophet SAW that he raised as if they were long committed life members of MQI. The majority were also youngsters as opposed to the elder generation. This seems to be only a glimpse of what is to come… stay tuned!
Report by : Jawed Iqbal Tahiri