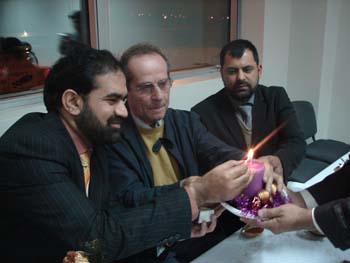 In the occasion of Christmas, the first inter-confessionnal function ever held in The Pakistani community of France was organised by Minhaj-ul-Quran France on Dec 30, 2006. For this first occasion, both Christian and Muslim brothers and sisters from the Pakistani community were invited to share together a woderfull time and a delicious diner at Minhaj-ul-Quran France Headquarter. The choice by the organisers for this day was not a coincidence but a symbol, as on this day, Muslims were also celebrating one of their biggest sacred day : the Aid-Ad-Daha.
Two chief guests were present at this ceremony : Father Berger, priest of the city of Pierrefitte near paris and who is very familiar wth the Christian community of Pakistan, and General Secretary of Minhaj ul Quran International, Doctor Raheeq Abbasi, currently on visit in France.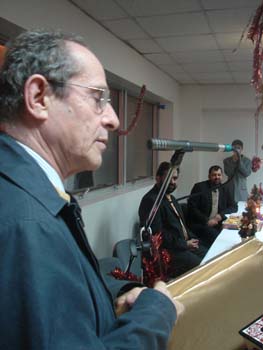 The Ceremony started with the recitation of Quran and Surah Mary Verses, ( translated in Urdu and French). After a warm welcome message given by PAT France President Khalil Rao, Mr Naeem Chaudary, incharge of MQ France external relations, thanked all Christian guests for their presence in Idara Minhaj ul Quran, giving their precious time in these end of the year festivities.
Before Dr. Raheeq Abbasi addressed to the audience, a candle of peace and brotherhood was ignited by both senior guests, symbolising the unity of the two communities.
Addressing to the ceremony, Father Berger thanked Minhaj ul Quran for the organisation of such events that shows the importance of untity among beings of a single God. He added that faith was a gift from God and people shouldn't use it for bad purposes.
As Christmas day is the birthday of Prophet Jesus, a special cake was also cut by both of the chief guests.
The ceremony ended with a Dua recited in both Christians and Muslims ways.
Finally, A wonderfull special christmas diner was finaly gathered by Minhaj ul Quran and Sweets and chocolates were distributed to all the audience.