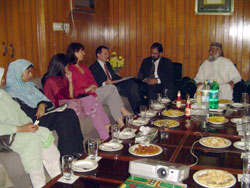 A two member British FOREIGN AND COMMON WEALTH OFFICE (FCO) official delegation comprising Mr. Tom Reilly, Deputy Head of Engaging with Islamic Group and Ms. Julia Nolan, Head of Asia Section of the FCO's Counter – Terrorism Policy Department visited the Central Secretariat of Minhaj ul Quran, on 22 June 2006 met with Executive of Minhaj ul Quran International. Ameer-e-Tahreek Miskeen Faiz ur Rehman Durrani, Nazim-e-Aala Dr. Raheeq Ahmed Abbasi, Naib Ameer-e-Tahreek Brig. (R) Muhammad Iqbal, Naib Nazim-e-Aala Col (R) Muhammad Ahmed were present at the accession.
The delegation was given a detailed briefing by Dr. Raheeq Ahmed Abbasi and Brg. (R) Iqbal Ahmed Khan regarding the organization, Aims & Objectives Composition of its Forums, Educational, Religious and Welfare activities. Dwelling upon the concepts and philosophy of propagation of the massage and areas of involvement of Minhaj ul Quran it was emphasized that our message is to promote peaceful Inter – Sectarian, Inter Faith coexistence condemning violence and terrorism involving killing of innocent people and destruction of property to redress the grievances of the aggrieved. The Delegation was informed that these objectives were being achieved through advocating Sufism and purveying moderate and tolerant face of Islam in all the teachings of Dr. Muhammad Tahir – Ul – Qadri, may these be in the form of his lectures to the masses, his literary works or the course curriculum of over 572 educational institutions being run under the auspices of Minhaj ul Quran ,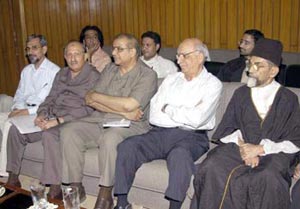 Sequel to the briefing a detailed discussion ensued wherein the delegation was recommended means for furtherance and enhancement of Inter – Faith harmony in UK utilizing the elaborate infra structure and resources of the Minhaj ul Quran International available in different cities of UK. Later the Delegation visited the Sale Center of the Minhaj ul Quran and was presented books authored by Dr. Tahir – Ul – Qadri on different Topics and DVDs of lectures delivered to the gatherings on religion. The Delegation expressed their profound appreciation of the efforts of Minhaj ul Quran and its leader in promotion of peace and harmony, education and relief to the destitute especially in UK. They said that Dr. Muhammad Tahir ul Qadri is playing a vital role in bridging gap between Islam and west and presenting Islam as a religion of peace and harmony.