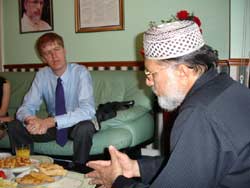 British Treasury Secretary MP Stephen Timms met with Shaykh-ul-Islam in Barking, East London on Friday. Islam, current affairs and politics was on the agenda.When Treasury Secretary Mr Timms spoke to Shaykh-ul-Islam about having taken a step back from the political scene in Pakistan to which Dr Qadri replied that he had lost interest in political affairs in Pakistan due to corruption within the government and judiciary system. "I did not find the atmosphere suitable for me to be able to deliver. I lost interest as a result of this".
Speaking with Mr Timms about terrorism, Shaykh-ul-Islam said "we cannot compromise on terror groups and terrorism for the sake of people and their well being". He also said "we believe in fair democracy and we believe in elimination of terrorism".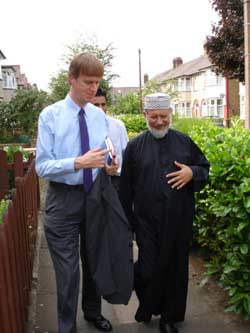 In their meeting Mr Timms briefly spoke to Shaykh-ul-Islam about the International Minhaj-ul-Quran Organisation. He was told that the organisation has over forty organisational structures, up to ten centres and claims over 5000 members in the United Kingdom with further centres established in eighty-two countries. The organisation primarily works for humanitarian efforts, social services and education. Speaking about the members of the twenty five year old Organisation Shaykh-ul-Islam said ``not a single case of terrorism or extremism has been found``. He explained ``Our emphasis is on integration and inter sectarian harmony`` He added ``Our organisation is one of the only places where Sunnis, Shias and other sects unite``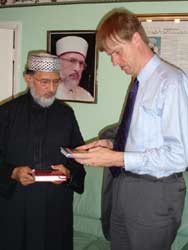 He told the MP of his setting up of the MCDF - The Muslim Christian Dialogue forum consisting of fourteen Christian and Muslim faith leaders. The vice chair of the organisation is Bishop Dr Francis of the Catholic Church of Pakistan. He told the MP approximately fifty-sixty Christians come to pray in the Minhaj-ul-Quran Mosque, something not many Muslims would permit.
Later Shaykh-ul-Islam shared some of his literatures with Mr Timms and extended a warm hearted invitation for the MP to attend the ``Al-Hidayah Summer Camp 2006`` to be held at the prestigious Heathrope Park on the 25th to the 28th August 2006. Mr Timms made a firm gesture that he would join Dr Qadri at the Al-Hidayah Camp.
Muhammed Asif Shakoor
Media and External Affairs Secretary
Minhaj-ul-Quran,London