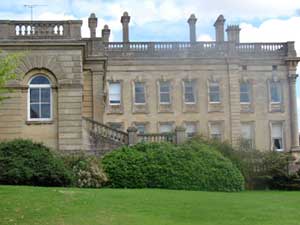 Al-Hidayah [the guidance] is a four-day spiritual retreat set in a wonderful countryside setting, at Heythrop Park, Oxfordshire. This event that has taken place, is one of the most unique events for Muslim youths living in the west, such an experience will live in our memories for years to come.
It all started on Friday 25th August at 10:30 am, where youths all over the western world came in their flocks to register themselves to this once of a lifetime experience. Applicants came as far as North America to mainland Europe, countries including Denmark, Holland and France. Majority of the participants came from all over Britain, from cities as far as Glasgow and Bristol, to those more closer like London and Birmingham, literally speaking there was no part of Britain, where youth did not come to attend al-Hidayah 2006 from.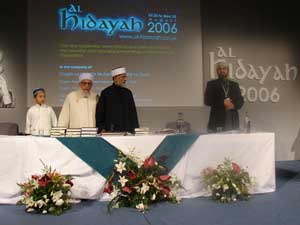 Once everyone settled down and was allocated their rooms, lunch was served with an offering of the Jum'a prayers. After this, Dr. Zahid Iqbal and Br. Abdul Qadir started off al-Hidayah 2006 with an introduction, giving details of the schedule of the four days. It was not until later on in the evening, until the arrival of his eminence Shaykh-ul-Islam Prof. Dr. Muhammad Tahir-ul-Qadri and Fadeela-tush-Shaykh Ass'ad Muhammad Saeed as-Sagharji (Syria) that al-Hidayah became set in full motion.
Shaykh-ul-Islam delivered his first discourse, on the history of Hadith. This was a perfect way to begin the study of hadith, especially in this age, where there are those people who deny the importance and sanctity of hadith. Shaykh-ul-Islam gave a very informative and educational lecture on this topic, and had cleared many misconceptions, which may baffle the minds of those who are new in their learning of Islam.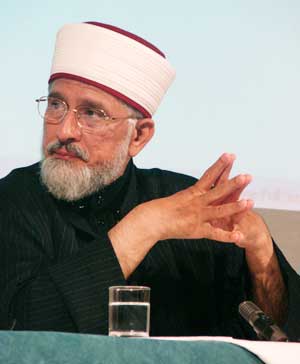 On the second day, 26th August, after Breakfast his eminence Shaykh-ul-Islam, delivered his second discourse, introducing Sahih Bukhari. This lecture, which lasted nearly four-hours, was split into two parts. The first aimed to deal with the introduction of Sahih Bukhari, whilst the second was a discourse on the chapter.
After this lecture there was a break, of lunch and prayer. Then next was a lecture delivered by Shaykh Ass'ad Muhammad Saeed as-Sagharji, who is one of the most prominent and greatest scholars of Syria today and a specialist on al-Fiqh al-Hanifiyyah and the ahadith of Holy Prophet (saw). His eminence delivered a discourse on Tasawwuf [Islamic Spirituality] and gave a clear message that Tasawwuf is based on Akhlaq [Good Morals and Conduct]. Then there was a question and answer session with the shaykh, from which the youth had benefited immensely.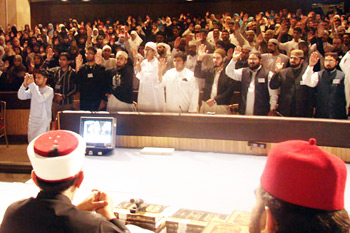 The third discourse was delivered by Shaykh-ul-Islam on Iman [Faith] from Imam Bukhari's Kitab-ul-Iman [Book of Faith]. In this discourse the importance of the love of Holy Prophet (saw) was discussed in relation to Iman; true sweetness of Faith actually comes from ones love of Allah (swt), his Prophet (saw), and the awliyah [pl. wali- Friends of Allah]. True Iman and the perfection of Iman come only when one makes the Holy Prophet (saw) dear to himself more than anything in this world.
After this discourse, there was a spiritual gathering with Shaam, in which there was recitation of anashid [pl. nashid- poems of praise of Holy Prophet (saw)]. There was also a session of Hadra, which was lead by Shaykh al-Hammami of Syria, who also took part in al-Hidayah 2006, reciting nashids before the lectures of Shaykh-ul-Islam.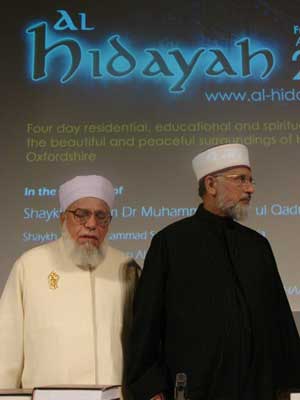 On the third day, 27th of August, the day began by the fourth discourse on Sahih Bukhari, this time going through various topics. Many topics were discussed from the Hadith Jibra'il, to the questioning of the grave. In this lecture there were many subtleties, if understood would be a source of salvation in ones aqidah [beliefs].
Later during the day, Shaykh-ul-Islam delivered his final lecture, continuing systematically and going through the pages of Sahih Bukhari taking out important points of aqidah. In this lecture the importance of seeing Holy Prophet (saw) in ones dream was discussed, quoting many anecdotes of the awliyah like Imam Busiri (ra), who is the author if the well known nasheed Qasidah al-Burdah. There was also a discussion on the Ilm al-Ghayb [knowledge of the unseen] of Holy Prophet (saw) taking directly hadiths from Sahih Bukhari.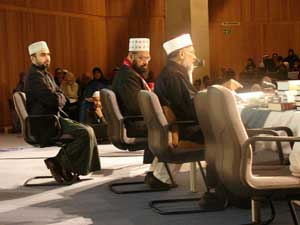 On the final day, Monday 28th, there was a Question and Answer session with Shaykh-ul-Islam. Many delicate issues were addressed, from questions about the life of Shaykh-ul-Islam, the mission of Minhaj-ul-Quran International to issues, which are quite commonly discussed amongst youth, like marriage.
The four-day retreat finally ended during the day, with everyone getting the chance to meet Shaykh-ul-Islam. There was also a photo session, where everyone got a chance to have their photo taken with his eminence, in the beautiful settings of Heythrop Park.
by: Waqas Amin [Student of al-farghana]