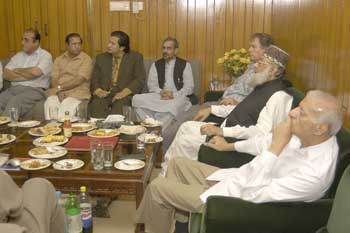 H E. Alf Arne Ramslien Minister Counsellor Deputy Head of Mission Royal Norwegian Embassy visited the Minhaj-ul-Quran International on Saturday the 15th July 2006, and remained in the central secretariat from 2.00 p.m to 3.00 p.m.
He was given a detailed briefing regarding the organization, Aims & Objectives Composition of its Forums, Educational, Religious and Welfare activities. Dwelling upon the concepts and philosophy of propagation of the massage and areas of involvement of Minhaj-ul-Quran it was emphasized that our message is to promote peaceful Inter Sectarian, Inter Faith coexistence condemning violence, Fanatism and terrorism involving killing of innocent people and destruction of property to redress the grievances of the aggrieved.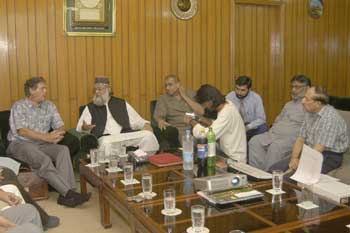 The dignitary was informed that these objectives were being achieved through advocating Sufism and purveying moderate and tolerant face of Islam in all the teachings of Dr. Muhammad Tahir-ul-Qadri, may these be in the form of his lectures to the masses, his literary works or the course curriculum of over 572 educational institutions being run under the auspices of Minhaj-ul-Quran, Sequel to the briefing a detailed discussion ensued wherein the Minister Counsellor was explained the methods and modalities of MQI's working at home and abroad. The means for furtherance and enhancement of Inter Faith harmony were discussed in detail.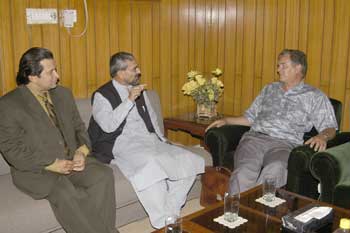 He was appreciative of the efforts of Minhaj-ul-Quran International towards global peace and tolerence and dwelt at length upon the concept of cultural co-existence. Later the Delegation visited the Directorate of Foreign Affairs and Gosha-e-Durood and was presented books authored by Dr. Tahir-ul-Qadri on different topics and CDs of lectures delivered to the gatherings on religion.
The Minister Counsellor Deputy Head of Mission Royal Norwegian Embassy, was briefed by Naib Ameer-e-Tehreek MQI Brig (Retd) Iqbal Ahmed. The other senior Tehreek members present were President PAT Mr. Faiz-ur-Rehman Durrani, V. C. Minhaj University Prof. Dr. Muhammed Nazir Roomani, Acting Nazim-e-Aala MQI Col (Retd) Muhammad Ahmed, Principle Secretary to Patron in Chief G. M. Malik, ecretary General MQI (Norway) Mr. Iftikhar, Vice President PAT Ch. Muhammad Sharif, Registrar Minhaj University Ch. Muhammad Yaqoub, Director Finance MQI Jawed Iqbal Qadri, Director Accounts MQI Malik Fazal Hussain, Nazim Planning Rana Fayyaz Ahmad, Secretary to PIC Sajjad-ul-Aziz, Deputy Secretary Media PAT Faiz-ul-Islam Qazi, Imtiaz Awan PRO, Ameer-e-Tehreek Lahore Prof. Zulfqar Ahmad were present.