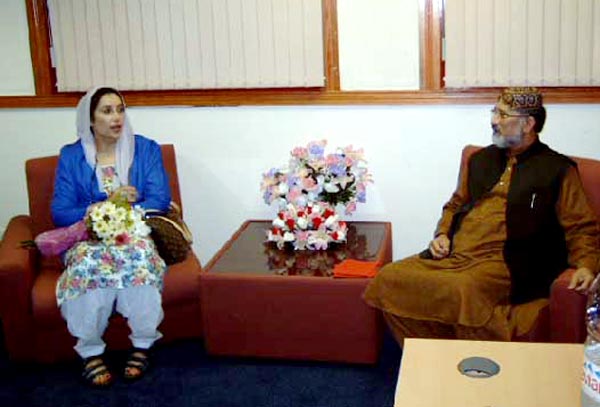 Chairman of Pakistan Awami Tehreek (PAT) and the Founder and Patron in Chief of the international educational, welfare and religious Organization of Minhaj-ul-Quran, Prof Dr Muhammad Tahir-ul-Qadri had official lunch with Former Prime Minister of Pakistan and Chairperson of Pakistan Peoples Party, Benazir Bhutto at the central Minhaj-ul Quran Centre in London on Wednesday, 06th August 2003.
Arriving at the Minhaj-ul-Quran Centre in Romford Road at 4.00 pm, Chairperson of PPP, Mrs. Benazir Bhutto visited the Minhaj-ul-Quran educational institute and bookshop. She was accompanied with PPP senior party members and the Partys UK President. The delegation was warmly received by Dr Muhammad Tahir-ul-Qadri and executive members of Pakistan Awami Tehreek (PAT) and Minhaj-ul-Quran. Mrs. Bhutto showed keen interest in Dr Qadris religious literature and audio/video recording of his lectures, selecting some for herself.
After the lunch, Mrs. Bhutto showed interest in becoming a member of the Minhaj-ul-Quran network and filled the organization`s Life Membership form immediately. According to her, the work of Minhaj-ul-Quran is impressive and she was delighted to learn of the spiritual and educational projects run by the organization worldwide.
In the United Kingdom, Minhaj-ul-Quran has been active since 1992, mainly in the fields of education and philanthropy. It has centers in London, Birmingham, Manchester, Nelson and Bradford.
Dr Muhammad Tahir-ul-Qadri, who is also elected member of national assembly of Pakistan, is currently in the concluding stages of his worldwide lecture tour, which has taken him to, among other countries, Canada, Denmark, France, Germany, Holland, Belgium, Greece, Italy, Norway, and the United Kingdom. He has been attending public gatherings, conferences, and meetings with the members of the organization and the general public.
---
Why Benazir Bhutto Joined Minhaj-ul-Quran International
By: Mr. Jawed Iqbal
It was not only the members, workers and supporters of the PPP who were shocked by their chairperson becoming the life member of a religious organisation, but it took every one by surprise. The leader of a party who is known to be leftist and always at loggerheads with religious elements in politics and government, has taken a very big and bold step in becoming a life member of Minhaj-ul-Quran International(MQI), the founding leader of which is Dr Tahir-ul-Qadri also the chairman of Pakistan Awami Tehreek (PAT). Although the former prime minister has clearly stated that she has joint the organisation because of it's purely religious status and that she is very impressed with the work of Minhaj-ul-Quran in the west, with there being no organisation which can compete with MQI, there will be many theories put forward which would suggest that this is a political move by both parties. As it is well understood that what ever politicians do is always politically motivated.
According to reports from London and then from the Pakistani media, Banazir Bhutto did highly praise MQI whilst talking to journalists in London. Saying, that it is far ahead of any other organisation, movement or sect in its Islamic work in the west. The question that every one wants to know is that what is the actual reason of her joining MQI. There are several possible theories in this regard.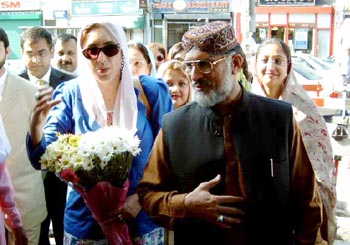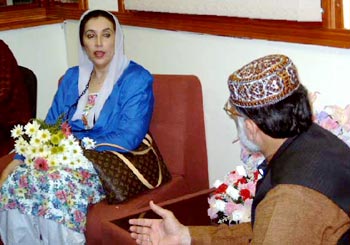 The most common explanation which will be flying around is that Mrs Bhutto will want to utilise the excellent abilities of Dr Tahir-ul-Qadri to clear her name with regards to the Swiss cases. This reasoning does not really hit home as firstly, she is herself, world renowned and has access to world media in order to put her case forward. Secondly, Dr Tahir-ul-Qadri is a staunch advocate of ridding corruption from the country through across the board accountability, so it is illogical to assume that he will follow such a course. Dr Tahir-ul-Qadri was perfectly aware that an association with BB will lead to such accusations so he will probably leave BB to deal with her own matters.
Another possible theory is that due to the rise in religious elements in the country and the continual failure of the two mainstream parties, people are naturally attracted to religious parties. Due to anti Americanism at a high in the country, and the Pakistani people clearly seeing that America is no friend of the Muslims, they will think twice before voting for anyone who they consider to be a 'stooge' of America. Understanding this perfectly well Banazir Bhutto may have taken the move in order to entice religious voters. It may well be that it is much more than that, with BB recognizing that Pakistan came into existence on a purely religious basis, thus ignoring this reality can no longer be fruitful due to current national and international circumstances. By associating herself to a religious organisation she in a way recognises the importance and status of Islam with regards to Pakistani politics and the Pakistani people at large. This can successfully be done without leaving her party's hard line on religious extremism and extremist entities because Minhaj-ul-Quran International has always differentiated it self from such organisations and totally rejects the association of extremist, terrorist and fanatic views to Islam. Dr Tahir-ul-Qadri is renowned for presenting Islam as a truly moderate and liberal faith countering the false image of Islam being presented by the western media.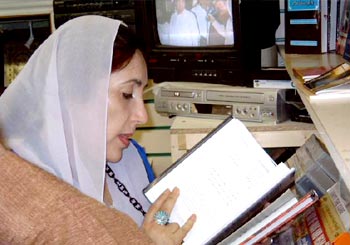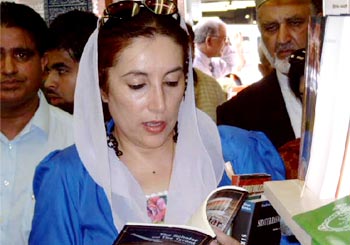 Although this is an interesting and quite probable reason for BB joining MQI, the following theory is much more of a practical one. Both BB and Dr Tahir-ul-Qadri have deep grievances with President Musharraf. Both were side lined by him in the October election although by different means. Dr Tahir-ul-Qadri had of course been with the Musharraf regime until before the election when he announced that the president had a hidden agenda, which of course has materialized in the shape of the current parliament and the commotion surrounding it. After the election Dr Tahir-ul-Qadri would have preferred to be in the official opposition but with it being dominated by the MMA he stayed well away from it. On the other hand he did not join the government as he believed it was totally under the control of President Musharraf, with it having no authority. Now with it emerging that the MMA and the government have struck some sort of deal behind the scenes, the MMA can no longer be seen as the opposition. With that being the case the job of the opposition will fall into the hands of the PPP and PML(N). As this will be true opposition without the MMA, it will perfectly suit Dr Tahir-ul-Qadri. The PPP and PML(N) currently lack a true voice and leadership within and outside the National assembly, with there being no better orator than Dr Tahir-ul-Qadri he can perfectly fill that vacuum. Dr Tahir-ul-Qadri on the other hand will have the support of seventy or so MNAs behind him in the Assembly which he currently lacks. Musharaf will be the one to lose out the most if this was to happen as the sole aim will be to bulldoze over him. Well it is all a question of a few 'ifs' and this theory could be in operation.
Another explanation for BB becoming a life member of Minhaj-ul-Quran International (MQI) is that at the age of fifty she might have thought that the time is right to start thinking about God. From her party's point of view she may really want to put the past behind it and make a new start.
So there we have it. The alarm bells should not be ringing as there is no sign of any BIN Bhutto emerging. What will really come out of BB joining MQI may probably become a little clearer when Dr Tahir-ul-Qadri returns from his world-wide MQI tour in mid August.
This article published in;
Pakistan Observer, 2002-08-17
by the heading "Banazir Shocks PPP Workers"
Frontier Post, 2002-08-22
by the heading "Why Bhutto Joined MQI"