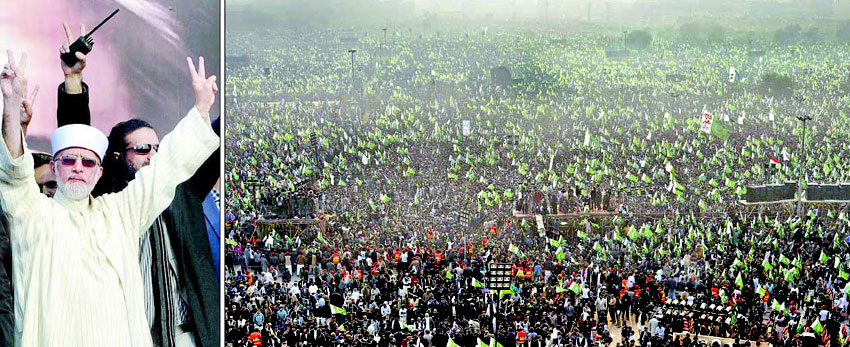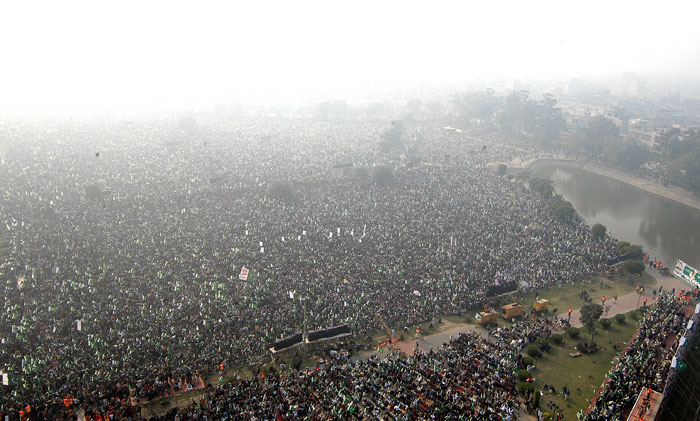 Shaykh-ul-Islam Dr Muhammad Tahir-ul-Qadri addressed historic grand public meeting titled 'Save the State, not politics' on December 23 (Saturday) which was attended by two million from across the country. He gave a deadline to the government until January 10 to correct the system. He made it clear that if constitutional and legal demands raised by him were not accepted to reform the outdated, corrupt system, there would be a peaceful march of four million people in Islamabad on January 14, 2013.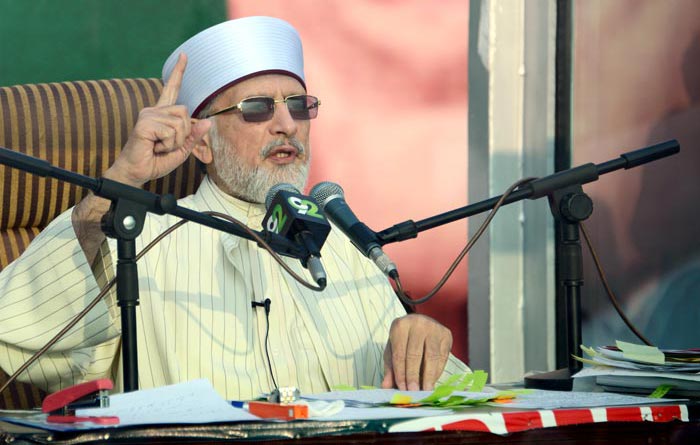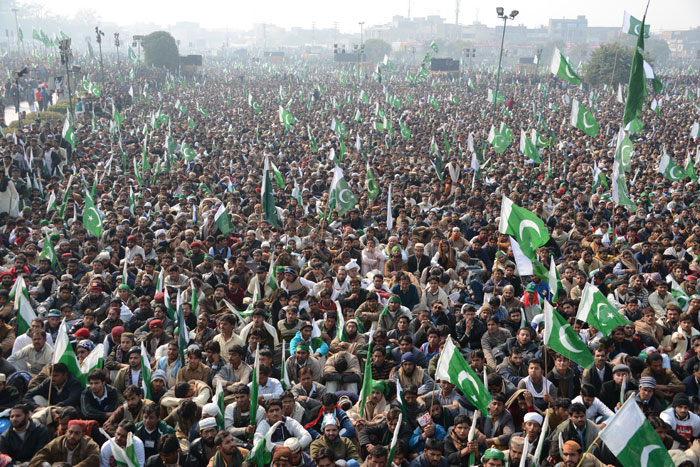 More than two million people extended historic welcome to Dr Muhammad Tahir-ul-Qadri at Minar-e-Pakistan, which is a huge event in the history of sub-continent. In addition to 50-member MQM delegation, Tehreek-e-Tauffez-e-Pakistan, Awami Muslim League, JUI Niazi, renowned TV anchor Dr Shahid Masood, representatives of religious and political parties, religious scholars and Mayshyakh, students, lawyers, and traders attended the mega event. In the beginning of his address, Shaykh-ul-Islam Dr Muhammad Tahir-ul-Qadri offered condolences on the demise of senior Minister of KP Government and ANP stalwart Bashir Balor and prayed to Allah Almighty to rest the departed soul in peace.
Dr Tahir-ul-Qadri said on oath in front of two million people that no domestic or foreign agency, power or government funded nor supported MQI in holding the mega event. He made it clear that all expenses of the programme were borne by the workers of MQI and the people themselves from their own pockets. He said that these people wanted to see a change taking place in the country. He said on oath that he did not come to Pakistan at the behest of any foreign power nor was he working on any foreign agenda. He said that the slogan 'Save the state, not politics' should not be taken to mean as if he had come to disrupt or delay the elections. He said that his purpose was to bring about reforms in the electoral system before the polls were actually conducted. He said that he was a great supporter of democracy. His third oath was on the fact that he was neither against democracy nor constitution in the country. He said that the objective of the public gathering was not to hint at any military takeover. He stated categorically that if the military tried to take over power, he would be the first person to oppose such a move along with other political and democratic leaders.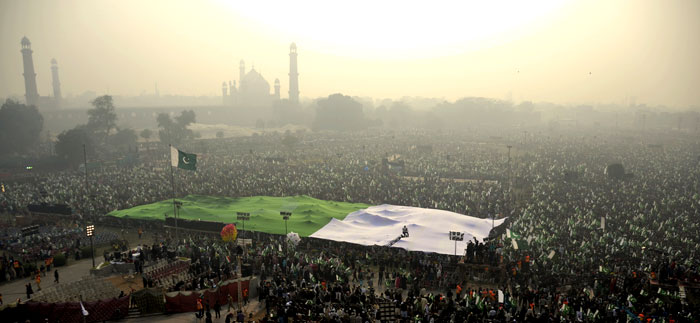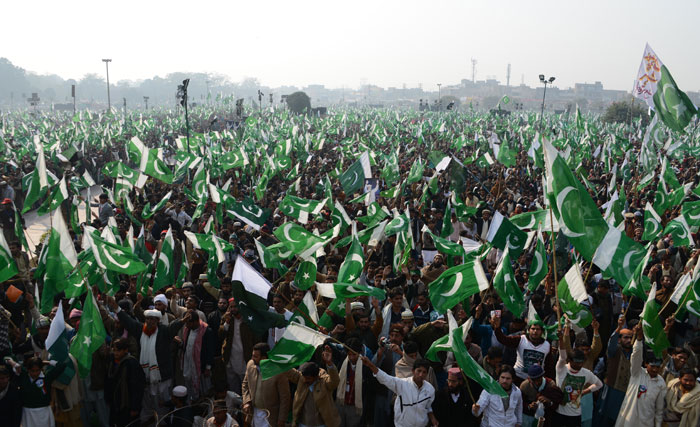 Dr Tahir-ul-Qadri said that he wanted a system in the country where Thana culture is eliminated, civil and criminal cases are decided in a month and fifteen days respectively. Invoking Article 54 of the Constitution, he said that elections could be held beyond the mandatory 90 days period under extraordinary circumstances. He said that the people would not be able to benefit from a system in which the members of Parliament go to any limit to protect and advance their interests. He said that corruption had permeated so deep in the body politic that if a customer failed to pay electricity or gas bill, he was barred from entering electoral race. On the other hand, there were 70% members of Parliament who did not pay their taxes but there was no law who could restrain them from being elected again.
Dr Tahir-ul-Qadri presented practical solutions to remedy and reform Pakistan's system in the public meeting. He said that if he asked oversees workers of MQI, they could pay the foreign debt of Pakistan within three months.
Dr Tahir-ul-Qadri said that he wanted a politics in the country, which should be instrumental in weaving the entire country into unity in accord with Quaid-e-eAzam's slogan of 'unity, faith and discipline'. He said that he believed in politics and the establishment of State of Madina was the beginning of politics of the Holy Prophet (SAW). He said that he wanted to implement the principles espoused by Syed Siddiq-e-Akbar (RA) and Hazrat Umar (RA). He said that the government failed to eliminate poverty from the country. He said that on the one hand, the ruling elite lived in huge-sized mansions, while the poor longed for one loaf of bread on the other. He said that he rejected such kind of politics.
About judiciary, Dr Tahir-ul-Qadri said that it was inevitable for judiciary to be strong and stable. He said that representatives of 180 million have stood up for supremacy of law and Constitution in today's meeting. He said that there was a time when Pakistan was sole nuclear power of the Islamic world. Now it was fast heading towards becoming a failed state. He said that the government of Balochistan failed to establish its writ as per verdict of the Supreme Court. Likewise, the government also failed to establish law and order in Karachi according to Supreme Court. He said that there was no justification for the governments to continue in office in the light of these judgments. He said that everything was being done ultra vires of the Constitution. He asked the judiciary as to under what law the country was being run. He said that supremacy of Constitution was a must for survival of the country.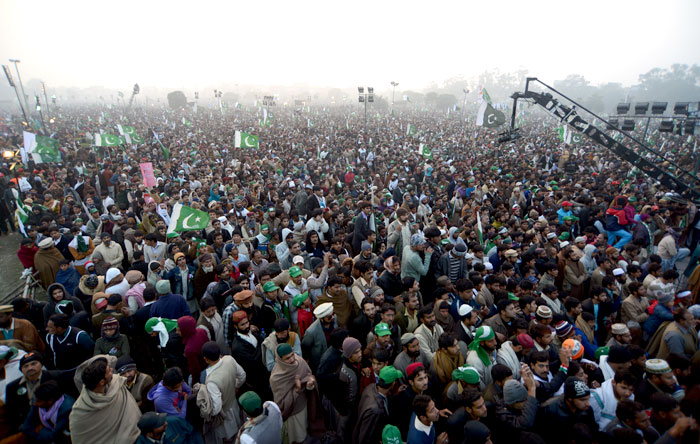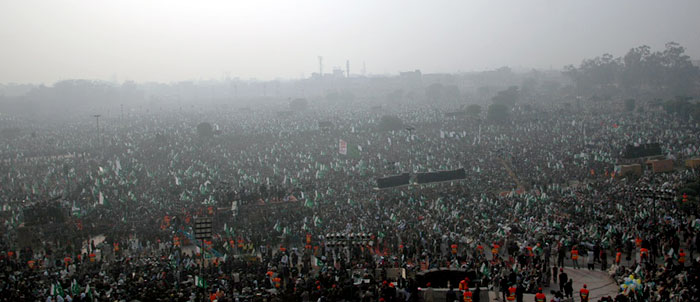 Dr Tahir-ul-Qadri said that the country's survival was at stake. He said that political parties often complained of interference from the military, adding that if we wanted to stop this from happening, we would have to run the country according to law and Constitution. We would have to focus on governance and service delivery. He said that the country was not being run according to Constitution. He referred to Article 3 of the Constitution, which said that it was responsibility of the state to eliminate exploitation of every kind, while exploitation was fact of life everywhere in society.
Dr Tahir-ul-Qadri said that likewise, Article 9 talks of sanctity of life, property and freedom of every citizen. He said that reality on the other side was that the weak candidates and their supporters dared not venture into politics. He said that election commissioner did not have the authority to guarantee the safety of people's life and property. He said that Article 37 of the constitution made it binding on the state to provide social justice to the people. He asked whether all these evils have been eliminated comprehensively from the society. If the answer is no, then there is no justification to hold the elections. Article 38 of the constitution says that the living standard of the people and their economic condition should be improved, every citizen should be given food but this was not available to everyone. Requirement of Article 218 is that elections are free, fair and transparent without use of any foul means and there is no corruption. He said that not even a single condition is being met in this regard. If elections are held despite all that, they will be against the constitution.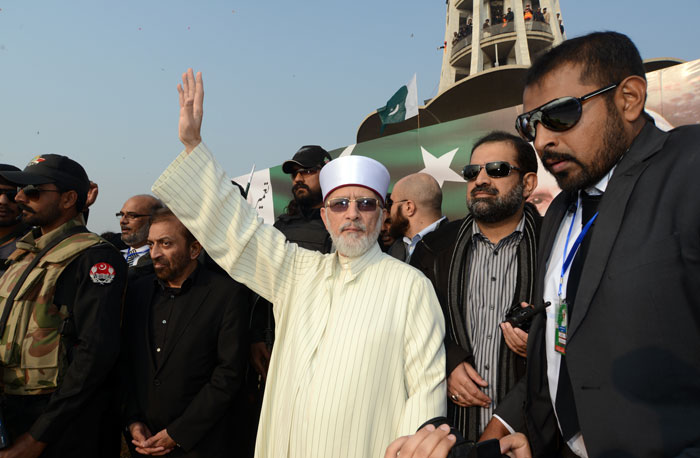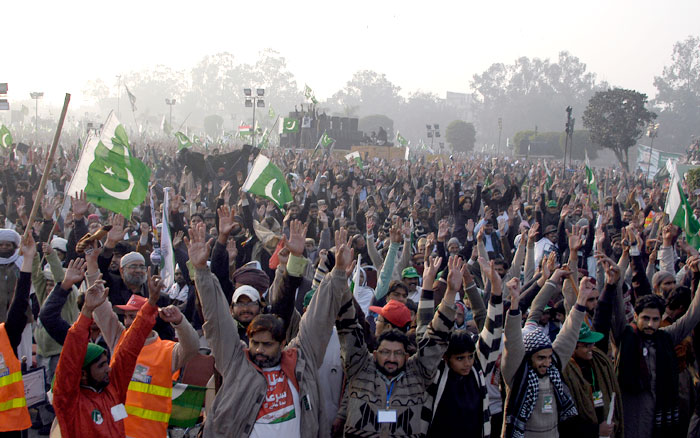 The Supreme Court in its judgement on Asghar Khan Case has said that the office of the president should be neutral. If the president is not neutral, is it not violation of the constitution? According to National Accountability Bureau, daily corruption of up to 12 billion dollars is committed and hefty sum of 5,000 billion rupees are lost due to corruption per annum.
Dr Tahir-ul-Qadri said that 70 percent legislators have not submitted their tax returns. He said that a monthly income of 42,000 per month was taxable. According to Income Tax Act, if you conceal your income you are liable to be fined or jailed for two years. He asked that when lawmakers would break law and not pay their taxes, they don't have any right to sit in parliament. He asked: is it not an open rigging?
Dr Tahir-ul-Qadri said that Article 62 of the Constitution demands of a member of parliament to be sagacious, honest, and trustworthy and a man of good character. He said that exceptions apart, majority of the legislators failed to come up to standards contained in Articles 62 a 63 of the constitution. He said that the Supreme Court of Pakistan disqualified 91 legislators due to fake degrees. When parliament removed this condition, the same set of people got re-elected to parliament. It should be a matter of shame for both the fake degree holders as well as those institutions that awarded them degrees. If elections were held without revolutionary changes in the system, these winning horses would come back to parliament again and this joke would continue to be made with the nation till the Day of Judgment.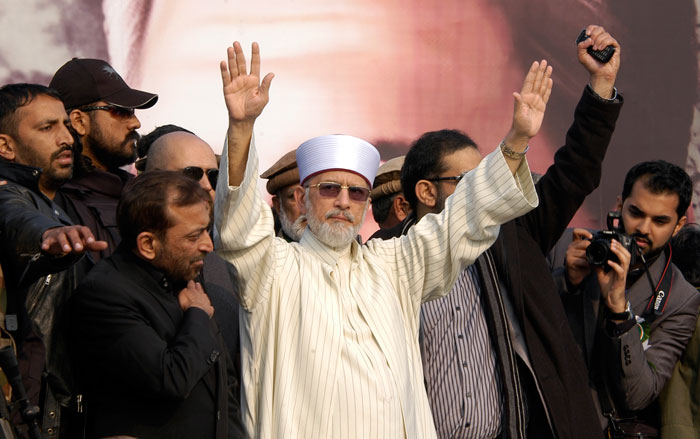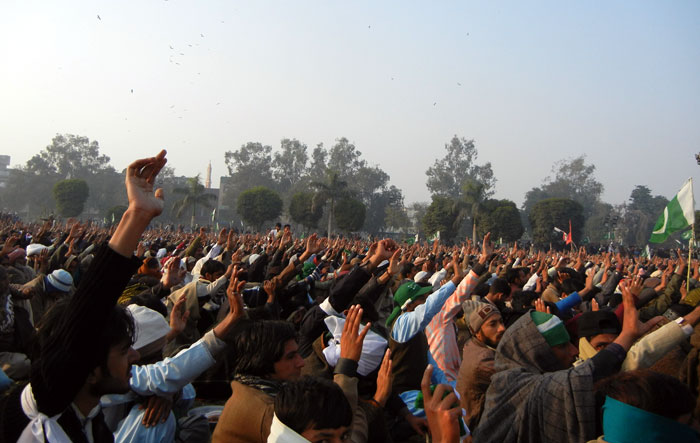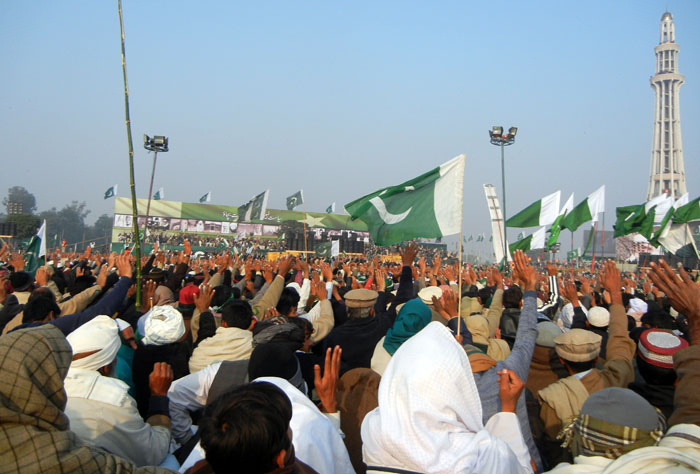 Dr Tahir-ul-Qadri said if we failed to establish supremacy of the constitution, no one would be safe like Malala. He said that the government has miserably failed in protecting the life and property of the people and ensuring economic stability. He said that he has a workable agenda to steer the country out of these constitutional and economic crises. The implementation of this agenda was capable of producing worthwhile within a short span of time.
Dr Tahir-ul-Qadri said that getting the election delayed was not part of his agenda but he was against the system in which the candidates were required to deposit millions of rupees to a party for award of a ticket. We want the election process to be rid of corruption at every level. He made it clear that there would be no election of rigging and exploitation.
Dr Tahir-ul-Qadri said that he wanted reforms in the electoral process. He said that constitution stipulated the conduct of free, fair and transparent elections within 90 days but added in the same breath that if they were held beyond 90 days in a free and a fair manner as per demands of the constitution that would not be unconstitutional. He said that the basis of this assertion was Article 254 of the constitution, which stipulated the time period within which to meet a constitutional demand but if it went beyond the specified time that would not be considered to be ultra vires of the constitution. He requested the judiciary to read this article of the constitution. He made it clear that if the forthcoming elections were not held according to the constitution and all prescribed conditionalities were not met, the people would not accept the validity of such elections.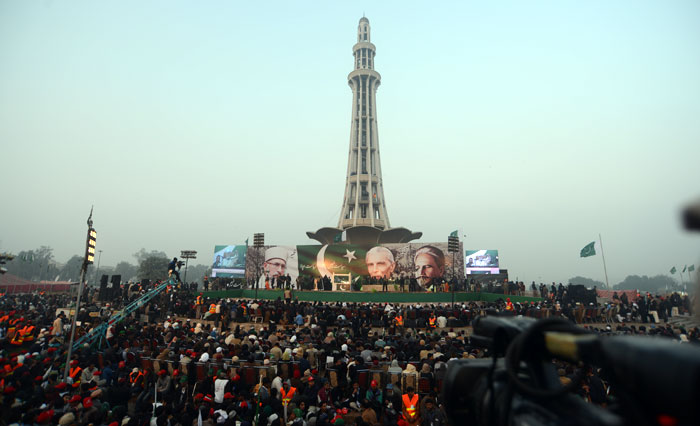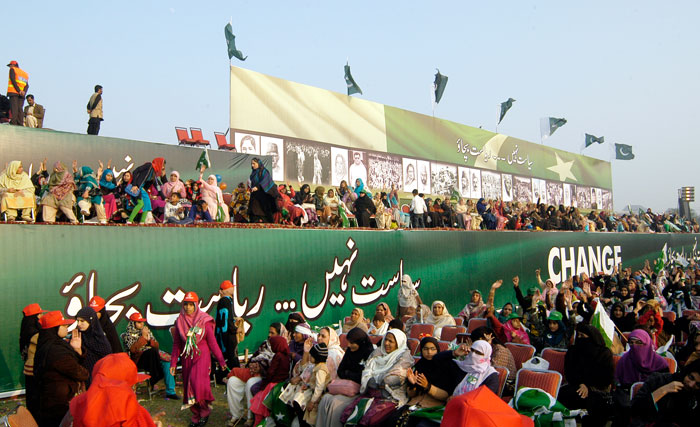 Throwing a light on his electoral reform agenda Dr Tahir-ul-Qadri said that there would be quota for every segment of society in the electoral exercise. Journalists, lawyers, farmers and youth would be elected to parliament. He said that he wanted to fix a quota for all segments including traders, farmers and teachers. He said that he wanted to do away with the practice of getting millions of rupees in the name of party funds. He added that elections should be held under the supervision of army and access of workers of political parties and candidates to the polling stations should be banned. He said that there should be no party camp in the electoral constituencies.
Addressing the international community, he said that Pakistan was changing. He held that we have to secure the future of the country and this called for drastic change in the system.
Dr Tahir-ul-Qadri declared that the Quaid-e-Azam did not establish Pakistan for a small group of predatory elite. He vowed to hand over the rein of the country to the poor by snatching it form the land lords and industrialists. He said that we were living in a society where man was another man. We would have to change the society. He said no state could progress without rule of law.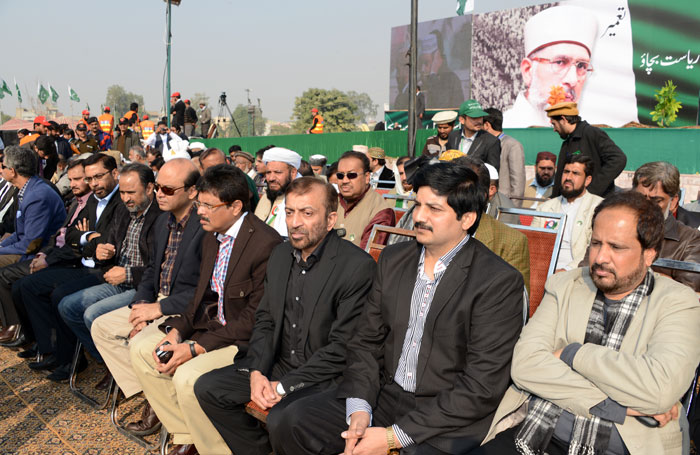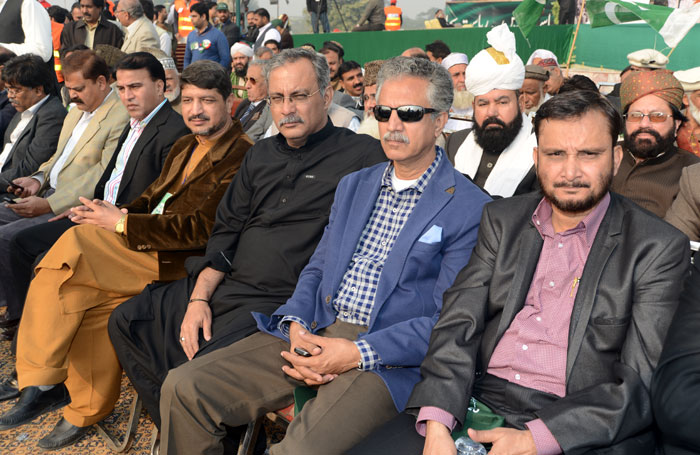 Dr Tahir-ul-Qadri said that those who couldn't put an end to poverty, inflation and unemployment did not deserve a second chance, and we wouldn't allow this action replay. He said that it was job of the police to protect the poor and if this objective required four times increase in salaries of police officials, we would not hesitate to do it.
Dr Tahir-ul-Qadri said Pakistan was ranked 139 on the world corruption list and its economic condition has deteriorated a great deal. He said that this was because of corruption of billion of rupees on daily basis. If corruption of 5,000 billion rupees be eliminated per annum, every poor can get a roof on his head. He said that he wanted to ensure provision of cheap justice, free education, health, uniform system of education and employment.
Dr Tahir-ul-Qadri said the country was not only victim of terrorism but also came to be known as its exporter. It was a matter of shame that the perpetrators of bomb blasts were traced back to Pakistan. He said those who attacked Peshawar airbase had tattoos on their bodies, which can give you an idea of penetration of foreign elements in Pakistan. We want an end to terrorism and drone attacks. We want to ensure equal protection to all citizens, including the non-Muslims. He said that if those affected by terrorism and extremism would seek justice, social legal and constitutional rights and upholding of Islamic values, they would find Tahir-ul-Qadri standing with them.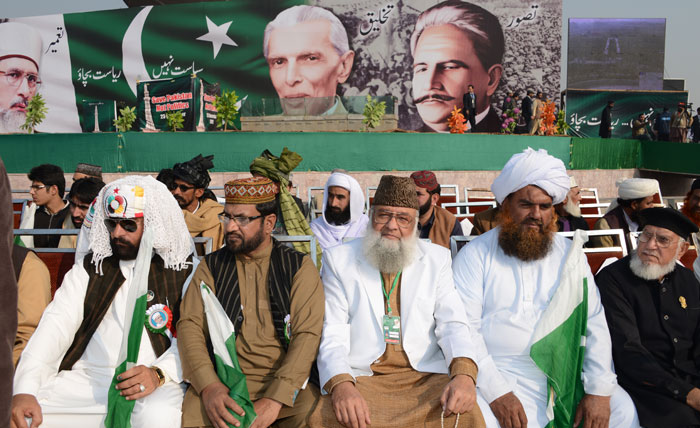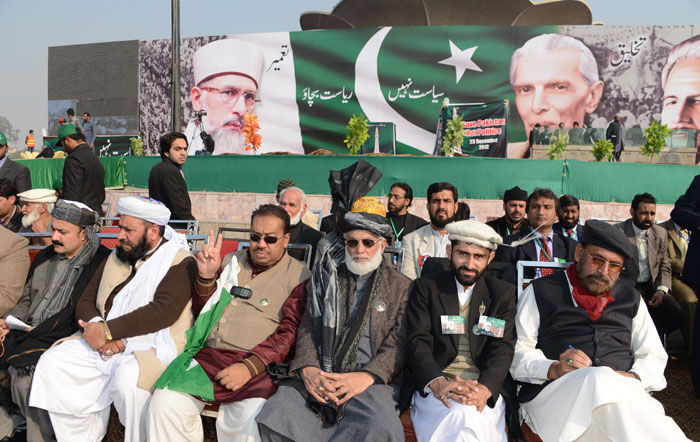 Dr Tahir-ul-Qadri said in his speech that the military never intervened out of its volition rather when the state institutions are destroyed, no one can stop the military from taking over. He made it clear he was against martial law and always opposed it. He however clarified that if people wanted to impose political 'martial law' through wheeling and dealing, we wouldn't accept it either. He said Pakistan could only be run under the constitution. He said that system of rule of law and justice would have to be established and parliament made effective to preclude any possibility of military takeover.
Dr Tahir-ul-Qadri stated categorically that if our demands were not met by January 10, 2013 the people would leave their homes and congregate on Jan 14 in Islamabad. He asked the people not to hesitate from selling their houses, jewelry and clothes. He said that our long march would be as peaceful as today's grand public meeting.