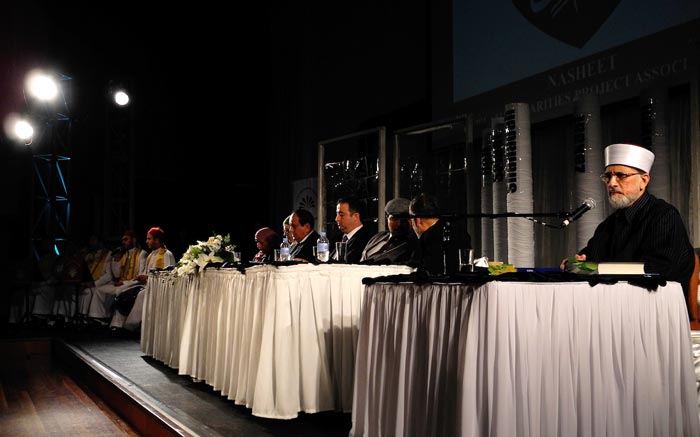 Shaykh-ul-Islam Dr Muhammad Tahir-ul-Qadri delivered a special lecture at the Peace Conference Sydney on Saturday 16th July 2011. The conference was organized by Minhaj-ul-Quran International Australia and was attended by hundreds of people coming from various ethnical backgrounds and different parts of Australia including Sydney, Brisbane, Melbourne, and other regional cities as well as from Fiji and New Zealand. The conference was attended by Barbara Perry, Shadow Minister of NSW for Family and Community Services and the Hon. Shaoquett Moselmane, the member of the NSW Legislative Council. The audience at the lecture comprised senior citizens of various faiths, members of the parliaments, politicians, policy makers, senior scholars and religious leaders. Shaykh-ul-Islam who is on a significant peace promotion visit to Australia was also accompanied by Sahibzada Hussain Mohi-ud-Din Qadri, the President of Federal Council of Minhaj-ul-Quran International.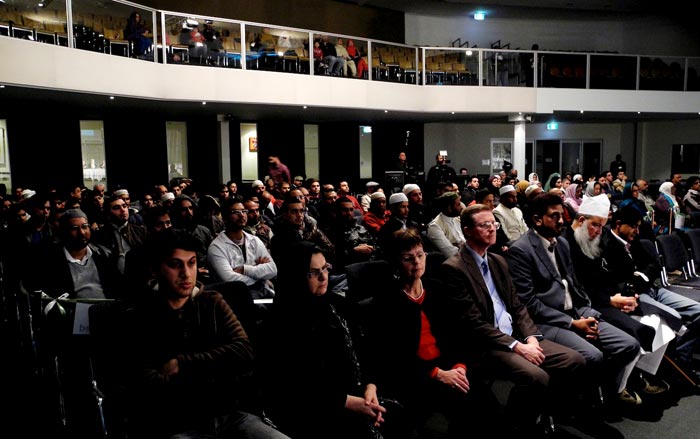 Speaking on Peace and Integration in the light of Holy Quran and sayings of Holy Prophet (peace be upon him), Shaykh-ul-Islam Dr Muhammad Tahir-ul-Qadri made it very clear that Islam means peace and security for not only the followers of Islam but for the whole humanity. He told the large gathering that terrorism cannot be justified in any form under the teachings of Islam. He said that a small minority of Muslim population, which is less than one percent of the whole Muslim population in the world, wrongly interprets the teachings of the Holy Quran. Unfortunately, the rest of the 99% peaceful and peace-loving Muslims remain unheard, as they don't make any news. On the other hand, that minority people who create mischief and nuisance get huge coverage in the media headlines, which gives a false impression to the people living in the West that all Muslims are extremists, which is totally wrong.
Shaykh-ul-Islam Dr. Muhammad Tahir-ul-Qadri gave lot many examples from the Quran and explained to people that innocent people regardless of their race and faith must not be killed in any circumstances. He said that it is clearly mentioned in the Quran that if anyone kills an innocent human being, he will be punished, as he has killed the whole humanity. He quoted the sayings of Holy Prophet (peace be upon him) that even during war times, the non-combatants must not be killed. He gave clear instances by Holy Prophet (peace be upon him) to his followers that during war time, if they have to cross the border and go to enemy territory, the Muslim soldiers must not harm elderly people, women, and children and also must not destroy farms and fruit trees as people may suffer because of shortage of food. He explained from Quran the rights of women, animals, birds, and even ants. He emphasized that if it is prohibited to harm even the ants, how can Islam allow killing a human being. He explained that Islam provides assurance to non-Muslim minority living in Muslim majority countries and orders Muslim minority living in non-Muslim majority country to abide by all laws and the rules of the country.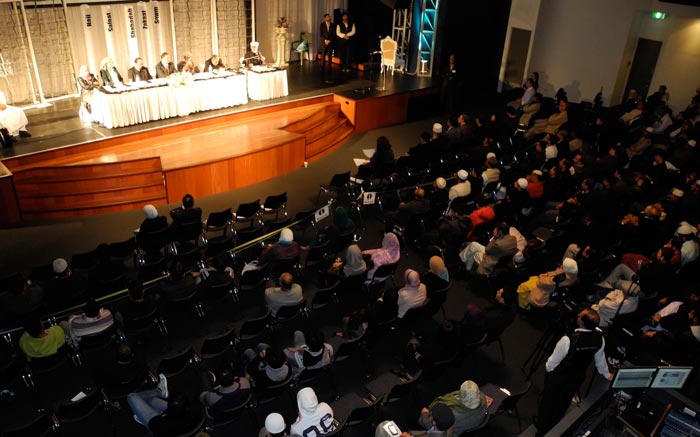 Before Dr. Qadri's speech, the Peace Conference commenced with recitation from the Holy Quran by Maulana Nazirul Hassan Thanvi and a Nasheed for Holy Prophet (peace be upon him) by Syed Riaz Hussain Shah. Hon. Shaoquett Moselmane, MLC, introduced Shaykh-ul-Islam Dr. Muhammad Tahir-ul-Qadri to the audience. Mr. Jeremy S. Johnson was the Master of the Ceremony. At the end of the speech by Shaykh-ul-Islam Dr. Muhammad Tahir-ul-Qadri, the audience stood up and presented to him a huge round of applause. Dr. Qadri also presented a copy of his recently launched popular 500-page decree 'Fatwa on Terrorism & Suicide Bombings' to several guests and dignitaries. Minhaj-ul-Quran Australia also arranged a stall of books and video lectures by Dr. Qadri at the conference venue. Hundreds of attendees took interest in the books and dozens of them bought the English version of his Fatwa book.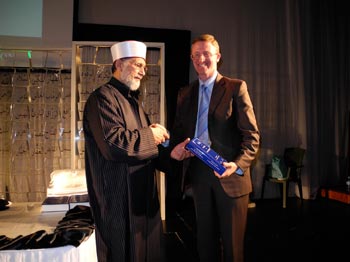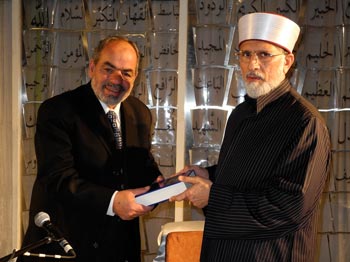 It needs to be mentioned that Shaykh-ul-Islam Dr. Muhammad Tahir-ul-Qadri is on a month long visit of Australia and New Zealand where he will deliver several public lectures including one in Melbourne on 23rd July, Brisbane on 30th July, and Auckland on 6th August on the topics of peace, integration, harmony, interfaith relations, and counter-terrorism. More information about his visit and schedule of his lectures can be found at www.minhaj.org.au.
Report prepared by:
Dr. Muhammad Asif Khawaja,
Secretary Information and Communication,
Minhaj-ul-Quran Australia