On May 14 2011, the much anticipated event 'Understanding the Reality of Iman' took place in Ghamkol Shareef Mosque, Birmingham.The main speakers of this event were Sister Faiza Sethi Qadri from London and Sister Ghazala Hassan Qadri from Canada. Sisters from all over the UK attended this event to be in the company of our esteemed guests and scholars to hear their words of wisdom and benefit from them. Sister Sweba Majid, Deputy Vice President of Muslim Youth League-Sisters, performed the role of a stage secretary and welcomed the audience on behalf of MYL-S. Sister Noor Fatima from Walsall then took to the stage to commence the programme with a beautiful recitation of the Quran followed by Qasidah Burdah from Birmingham MYL-Sisters.President of Muslim Youth League Sisters, Ambreen Mahmood, continued the programme by giving an introductory talk about the Muslim Youth League. She appealed people to join in order to gain knowledge and work together for the promotion of peace, interfaith dialogue and harmony in the world. She mentioned that it is said that 'to rise up at dawn and obtain a piece of knowledge is better than 100 voluntary prayers'. Knowledge makes one aware of the 'Marifah' (Gnosis) of Almighty Allah and brings you closer to Him. She emphasized the point of how knowledge is the boundary line of safeguarding Iman. Shaykh ul Islam Dr Muhammad Tahir ul Qadri set up the Muslim Youth League to safeguard Iman by gaining knowledge.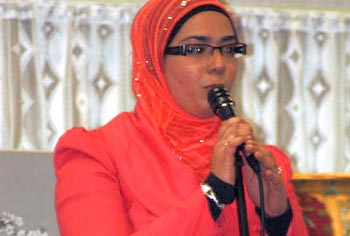 Sister Sweba then mentioned that this is the problem the Muslims face nowadays is that the young generation wants proof from the Holy book and Ahadith. This is not possible unless we educate ourselves. She mentioned how Shaykh-ul-Islam and Minhaj-ul-Quran International are providing the answers by taking people back to the 'essence of deen' as it was originally intended to be.The General Secretary of Minhaj Women's League (Birmingham), Sister Abeda, welcomed the chief guests and audience in Urdu. She explained what the Minhaj Women's League is doing for the community and how others could join and contribute to the wellbeing of community. London-based Sister, Sana Asif, then mesmerized the audience with her beautiful voice and Daff whilst reciting Shaykh-ul-Islam's poem 'Main Bura Hoon Ya Bhala Hoon'.Head of Dawah Minhaj Woman League UK, Aalima Faiza Qadri from London, then took to the stage to deliver her Urdu Speech about the main topic that evening. She started off by saying that the sole purpose of coming here should be to seek blessings of Almighty Allah and the Prophet (S.A.W). This is the 'Mehfil' of Allah (S.W.T) and his beloved Prophet (S.A.W). So certain etiquettes should be observed whilst in attendance. The more one sits with 'Adab' (reverence and submissiveness), the more blessings and higher degree of 'Iman' one will get in return.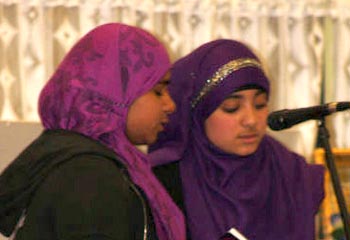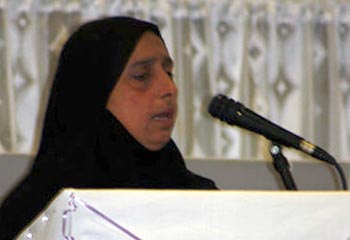 She continued by explaining what Iman is, and what does it mean? She said that in Islam, you have Islam and Iman. The status of Iman is higher than Islam. Reality of Iman is to attain to the nearness and intermediation of the Holy Prophet (S.A.W) and Almighty Allah (S.W.T) Himself explains this concept of nearness by mentioning His Messenger (S.A.W), whenever he mentions Himself in the Quran. She gave many examples to explain how we are at fault for not reaching a higher level of Iman. She added that we try to approach Allah (S.W.T) directly instead of going through His beloved Prophet (S.A.W). Reality of Iman lies in loving and following the Prophet (S.A.W). It is this concept of 'Ittebah' (obedience) that leads one from being a LOVER of Allah (S.W.T) to becoming a BELOVED of Allah (S.W.T) instead.After Aalima Faiza's talk, Sister Rukhsana Iqbal from Birmingham recited a Naat Shareef for the audience.Sister Ghazala Hassan Qadri then took to the stage and welcomed everyone and prayed to Almighty Allah to accept their attendance.  She started her talk with saying how Iman is the fundamental principle on which our faith is based. She said that if our Iman is incorrect then none of our deeds holds any value. The Reality of Iman, she added, is the indispensability of the person of the Prophet (S.A.W). Our attachment to him is what defines our Iman. We cannot live, breathe or exist without the personality of the Prophet (S.A.W), she held. She said that if you take away the love from your heart, hardness and harshness is created in it. That is whence hatred and extremism comes. This is the reason why youth, nowadays, are swayed so easily and brainwashed into doing things prohibited by Islam. Allah (S.W.T) Himself explains this system in the Quran and Minhaj-ul-Quran's aims and objectives are taken from this example itself.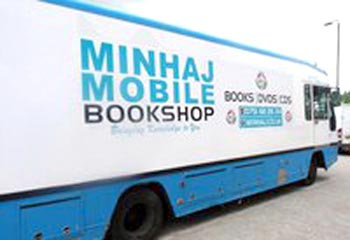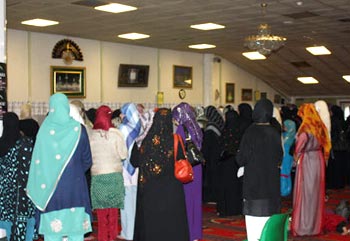 She said that Iman is a pillar of faith. You can go in two directions. Descending order -Nazool or ascending order-Urooj. You place Muhammad on the bottom, Rasool in the middle and Allah on the top. The revelation is revealed in a downwards direction to the Prophet (S.W.T). The ring, seal of the Prophet has the same sequence and is a prime example of this system. If you wish to receive the proximity of Allah (S.W.T), you have to follow the Quranic system and seek an access to the Rasool (S.A.W) of Allah first and then you get to meet Allah (S.W.T). The Prophet (S.A.W) himself has said 'Fattah Bey Ooni' Love me, if you Love Allah (S.W.T) and Allah (S.W.T) Himself commands 'You have to become the lover of My beloved. If you become My beloved's lover, then you will become My beloved. Not only will I then love you, I am ever Merciful, I am ever Kind, I will then forgive your sins'.Sister Ghazala gave many examples of this love and how Shaykh-ul-Islam makes it easy for us to understand through his lectures and literature. The 'Tarka' example in particular brought a smile to the attendees' faces. Sister Ghazala finished her talk by emphasizing the point of being in good company and having good friends, 'because it is the company and association that will lead you to the straight path'. She said that we must try to obtain and remain in the company of Shaykh-ul-Islam by listening to the lectures and reading the literature, even if it is only for five minutes a day.Halifax Sisters, Safoora, Safyah and Tahira then followed Sister Ghazala's speech and recited an Urdu Naat. Sister Khadija Atkinson from London continued the programme by telling the audience about the Wembley Conference 'Peace for Humanity – MUHAMMAD the Merciful' taking place in September this year. She highlighted the fact that real pearls of wisdom were delivered today. She said that there's always an inner struggle between good and evil. As Muslims we are under a microscope. We're being criticized and scrutinized so this is the ideal time to educate ourselves. The Wembley event will be, 'a once in a lifetime chance to see for yourself what type of scholar Shaykh-ul-Islam is' she said.There was then a short Q&A session where Sister Ghazala answered the questions the audience had about Minhaj-ul-Quran International.
The event concluded by a supplication from Sister Saba Fatimah Mashadi, former President Woman League Pakistan, and collective Durood recitation was led by Aunty Jamila, mother of Sister Ghazala Hassan Qadri. On leaving, the attendees had the opportunity to visit the MYL-S stand in the foyer, where they could buy tickets for the Wembley Conference, English DVD's and books. Minhaj Mobile Library was also present outside for a more extensive range of literature and DVD's. MYL-S would like to thank all the attendees, the chief guests and in particular the Birmingham Minhaj Women's League and Muslim Youth League Sisters without whom this event wouldn't have been possible.
Reported: Marinah Syed Shah