Minhaj Welfare Foundation, a charity organization under Minhaj-ul-Quran International, has been engaged in welfare activities since its inception. It has focused its attention and energies on health, education and general welfare. MWF has a vast network, whose vibrancy and dynamism was visible during the relief and rescue operations following the worst floods in Pakistan's history. One of the prominent characteristics of MWF's functions is that it has not only been working inside Pakistan but also in foreign countries. Its provision of support during devastating earthquake in Iran and Tsunami in Indonesia is proof of its worldwide operations meant to help the suffering humanity by rising above the differences of caste, colour, race, creed and religion. MWF collaborated with different organizations and its local chapters and spearheaded a very successful Qurbani campaign 2010 both in Pakistan as well as abroad.
Bangladesh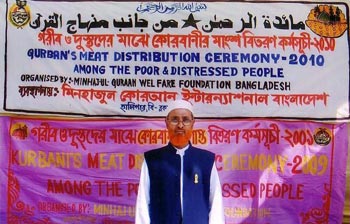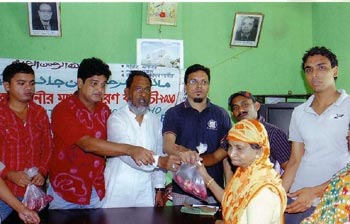 The MQI Bangladesh team has been very active over the past few years. It has implemented various educational projects in rural areas of Bangladesh. This is the second successful year running in which MQI Bangladesh has been part of a worldwide Qurbani Service 2010.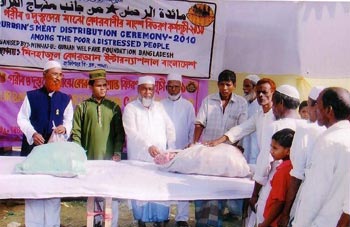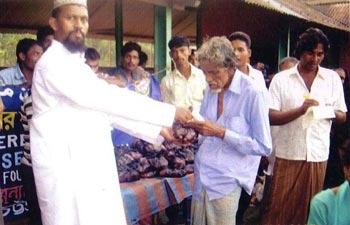 We, all the members of Minhaj ul Quran Bangladesh, are really grateful to all at Minhaj Welfare Foundation for its support to make Qurbani campaign a success and plan for distribution of meat among the poor and the needy on the occasion of Eid ul Adha. We are also grateful to the donors who helped us undertake welfare work in Bangladesh.We would further like to appeal the people of Bangladesh to keep extending their cooperation in the sacred cause of helping the poor and distressed people on other occasions as well.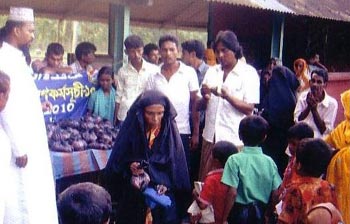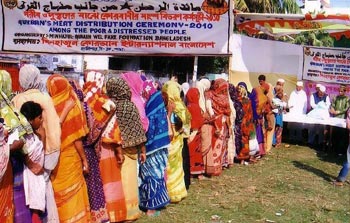 Somalia: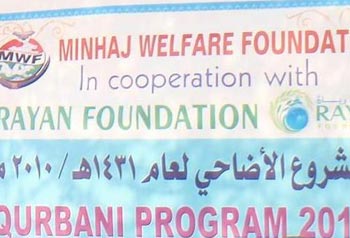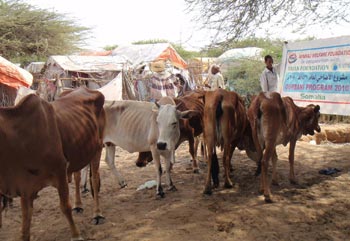 This is the second year wherein MWF has successfully held its Qurbani service in Somalia. We are grateful to Rayan Foundation for its cooperation and coordination, which enabled us to ensure that the meat is distributed to the poor and the needy of Celasha Biyaha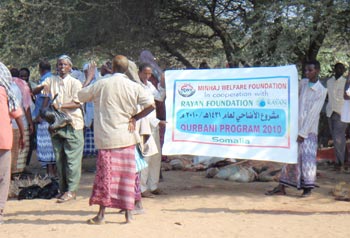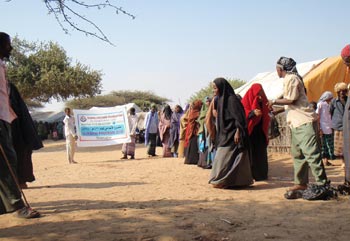 We have successfully implemented the project of Adahi (Qurbani) this year in Lower Shabelle region in Hawo Abdi Camp near Celasha Biyaha. The hundreds of the displaced and needy people benefited from this project.
People expressed their deep gratitude and prayed for success of MWF in its mission to alleviate the sufferings of less affluent sections of society.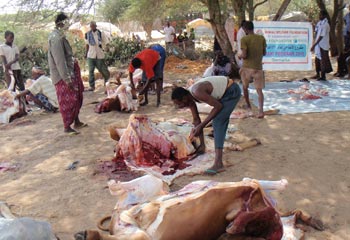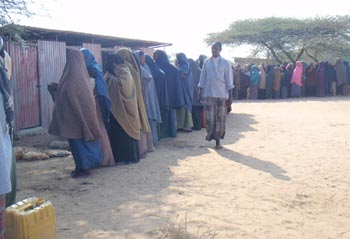 These poor people belonged to the neglected class. As one can see in photos that they do not even have proper shelters, clean drinking water and proper hygiene. The Somalian members of MWF have expressed their heart-felt thanks to MWF Pakistan for helping the needy people on this auspicious occasion of Eid ul Adha.
Kenya: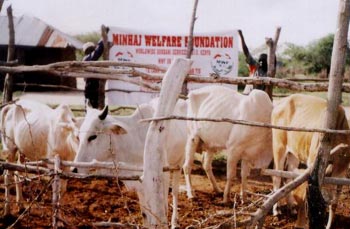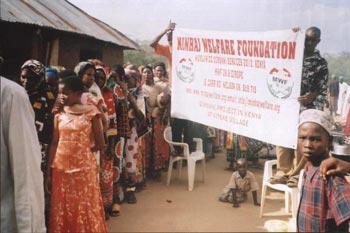 This is a brief report by Mr. Iddi, who works strenuously in helping the people of Kitere. He told us that the people of Kitere have never seen such a large amount of meat; they even invited people from other villages to dine with them. Approximately 4000 people enjoyed the 'Great Feast' and celebrated Eid ul Adha with great excitement, religious fervour and joy.His message went like this: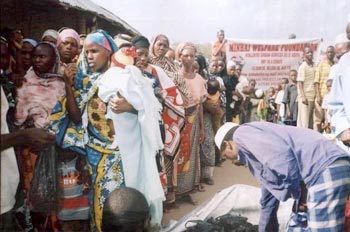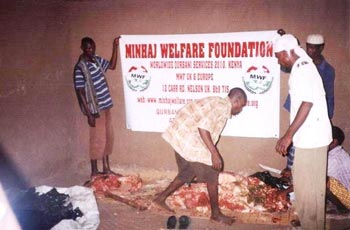 'I first thank Allah Almighty Who has given this opportunity to pay my sincere regards to all of you for successfully undertaking the Qurbani project in our village this year. May Allah reward you more and more!The Qurbani took place in Kitere village on Wednesday on the day of Eid-ul-Adhha whereby all the people, men and women and there children celebrated a remarkable day to be remembered forever. This is for the first time such a grand feast took place at such a wider level in that area.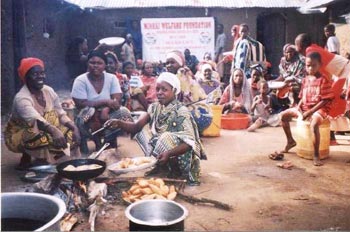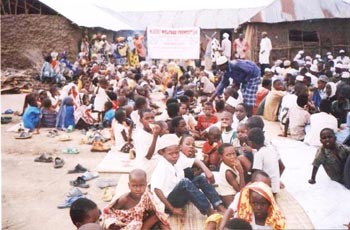 The activity took place from morning to evening as planned. The goats and cows donated by MWF were sacrificed. There was a lot of meat which was given to all the people, whereas the old and the needy were given the first priority.People from other villages were also invited to come and share the meat. The meat was packed in plastic bags for distribution. The recipient of meat of sacrificial animals expressed their appreciation for MWF.
Nigeria:
MWF Nigeria would like to thank Mr Chubado Haman for coordinating with MWF for the worldwide Qurbani Service 2010 in Nigeria. Chubado, who is originally Nigerian, remained in constant contact with Mr. Husseini who traveled 70 kilometers to give us the information.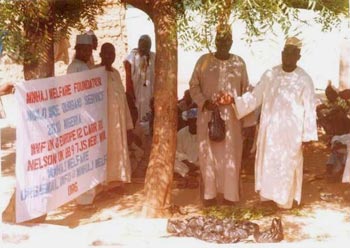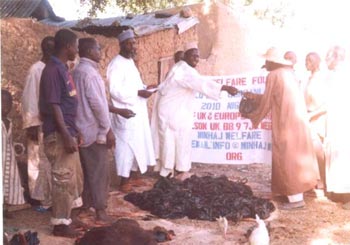 This year i.e. 2010 marked the second successive year of Minhaj Welfare Foundation UK. It was the first independent Charity to have successfully carried out Qurbani project in Madagali Town Adamawa state- Nigeria in over 100 years ago. MWF started Qurbani project in Nigeria in 2009 and distributed meat of ten slaughtered cows. Similarly, ten cows were also slaughtered on the Eid ul Adha this year in Nigeria.
The meat of Qurbani was distributed among the poor and the needy within the Madagali town, Adamawa state, Nigeria. MWF representatives and committee members in Nigeria selected 10 mosques, where the Adahiya (meat) was to be distributed. Each cow was slaughtered in front of mosque.Hundreds of people got meat. Those belonging to the poor sections of society were given preference at the time of distribution of meat. People expressed their extreme satisfaction over the arrangements made for orderly distribution of meat.
People thanked Almighty Allah and sent salutations on the beloved Prophet (Peace be upon Him). The Madagali community prayed for wellbeing of donors and organizers who dedicated themselves for Qurbani in Nigeria.
Report: Muhammad Ajmal Khan