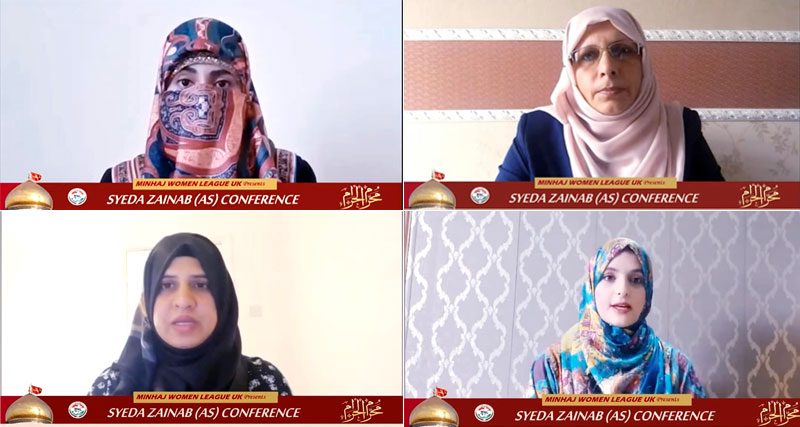 On the 10th of Muharram, Minhaj Women League, UK, held the Sayyida Zaynab (salam Allah alayha) Conference to commemorate her life and pay her rich tributes for her courage and bravery in the face of the brute Yazidi might. This was the final event of the 10-Day long programs organized in the holy month.
The event was hosted by Ehram Fatima (General Secretary MWL UK) and it began with a melodious recitation of the Holy Quran by Maryam Noor from London.
This was followed by a beautiful Naat by Fareeha Kashif (Head of Treasure of knowledge Team). Asifa Malik from the North Zone then read a heart-touching Manqabat, followed by Uzma Bashir (Treasure of knowledge team) who also recited a Manqabat.
Mrs. Nasreen Akhtar (President MWL UK) delivered a short message, highlighting the importance of sacrificing time for our deen in our everyday lives. She invited the sisters in Deen to become active and participating members of Minhaj ul Quran International to spread the message of peace, harmony, and interfaith dialogue.
The main speech of the event was delivered by Mrs. Fizzah Qadri, in which she highlighted the esteemed status of Sayyida Zaynab (salam Allah alayha) and the love the Holy Prophet (SAW) had for her, as well as her unmatched courage and immense sacrifice.
Mrs. Fizzah discussed the unique relationship between Hazrat Zaynab (Alayhas-salam) and Hazrat Hussain (Alayhis-salam). Although they were siblings and naturally had a very strong bond, this particular relationship between the brother and sister was so immense that even Hazrat Fatima (Alayhas-salam) would be astonished to see as they would pray together.
She said that Hazrat Zaynab (Alayhas-salam) was so devoted to Hazrat Imam Hussain (AS) that she would spend time with him as if it was the last. She gave some lovely insight into Hazrat Zaynab's (AS) life as a woman, daughter, and sister.
The event ended with Salaam and a short Dua by Mrs. Nasreen Akhtar.