Minhaj Brothers UK and Minhaj Sisters UK teamed up to organise an online New Year's Dhikr, with special guest's Dr Ghazala Hassan Qadri and Shaykh Hammad Mustafa Qadri, to end the unprecedented year of 2020 and welcome 2021 in the most spiritual and enlightening way.
The programme was hosted by Brother Zain (Minhaj Brothers UK) and Sister Ambreen Mehmood (General Secretary of Minhaj Sisters UK). The session commenced with beautiful recitations of the Holy Quran by Sister Atiya Parveen (Nelson) and Qari Mubashir Anwar (Manchester) which enlightened our hearts and illuminated our minds. After praising Almighty Allah (SWT), praises were sent upon the Holy Prophet Muhammad (PBUH) by Brother Burhan Tariq (Stoke-on-Trent) who recited some beautiful Nasheeds in the blessed court of the Holy Prophet (PBUH).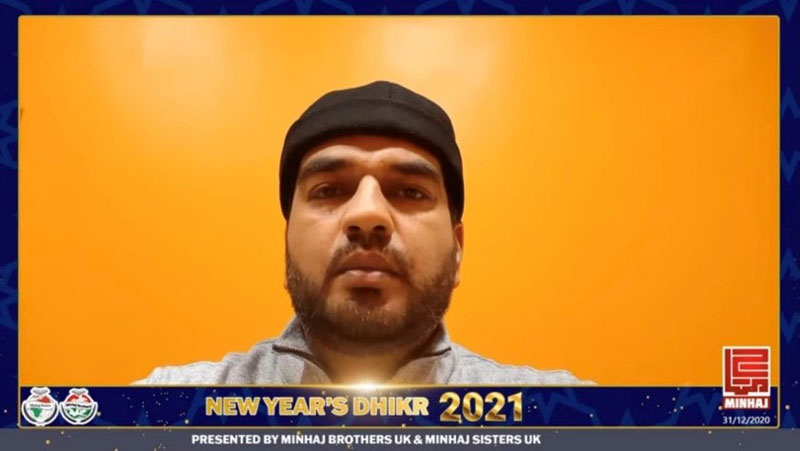 This was followed by an insightful reminder by Shaykh Rehan Raza Al-Azhari (Glasgow) who spoke about the importance of repentance in the court of Almighty Allah and how it is clearly stated within the Holy Quran to seek forgiveness from Almighty Allah (SWT) through the intermediation of the Holy Prophet (PBUH).
Throughout the programme, the hosts did an incredible job in keeping the audience engaged by interacting with them, asking questions, and giving shout outs to those commenting. Further praises were sent upon the Beloved Prophet (PBUH) by Brother Dawood Mahmood (London) with his melodious voice.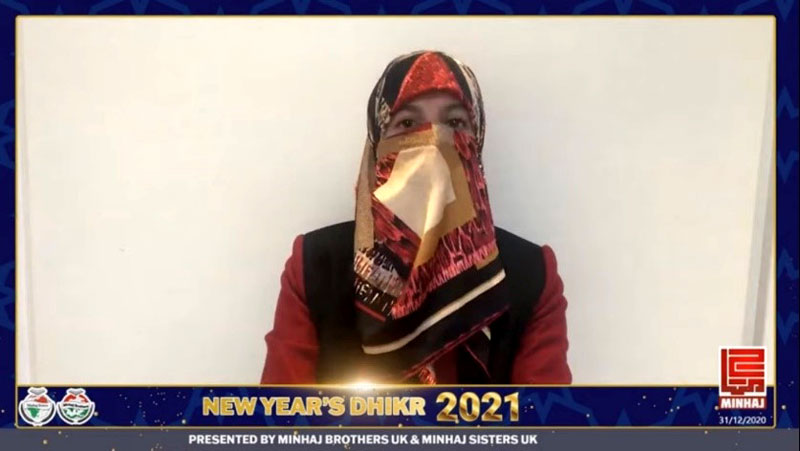 This was followed by a special message by Dr Ghazala Hassan Qadri who provided us with an enlightening reminder to start of the year with the word patience, it is the key to these trying times and it may be difficult, but when one seeks patience, Almighty Allah provides ease within their lives. Dr Ghazala also emphasised that we should always have faith and trust in Almighty Allah (SWT) whenever things do not go our way.
Thereafter, Qari Ansar Qadri was invited to recite praises upon the Beloved Prophet (PBUH) all the way from Norway.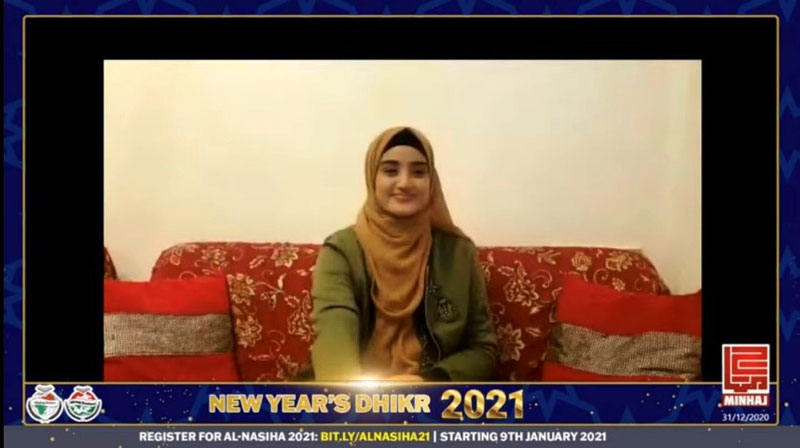 Sister Khadijah Sarfraz (South Deputy Coordinator of Minhaj Sisters UK) from London presented some words of motivation for the New Year about setting goals and making small but consistent changes within our lives which do not go unseen by Almighty Allah (SWT) as we continue put in the effort and work hard in achieving them.
To further enlighten our hearts, the Barakah Sisters (West Bromwich) recited some beautiful nasheeds. The New Year of 2021 then began, by Allama Adeel Qasmi, with the Dhikr of Allah (SWT) in our minds and hearts, and what better way to get rid of any trials and tribulations and to purify the soul.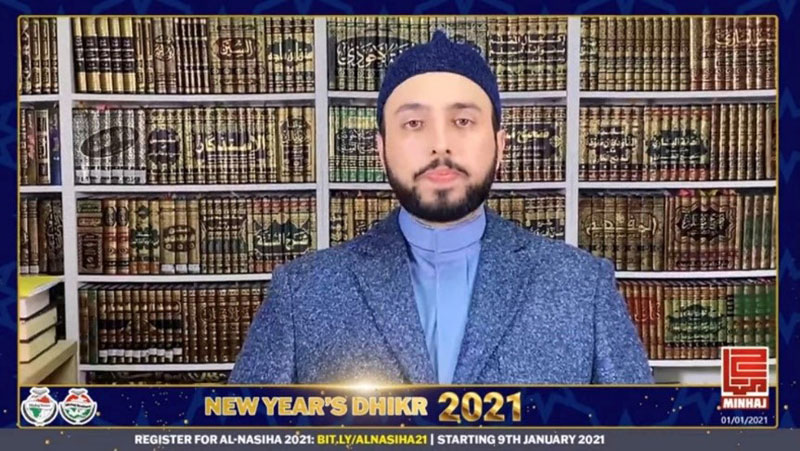 Shaykh Hammad Mustafa Qadri delivered a beautiful analogy in declaring that Al-Tawbah (repentance) is the vaccine of the heart and forgiveness is the sanitisation of the heart and the soul. Al-Tawbah is not within our capacity and we are not worthy of performing it ourselves, it is only by the will and the grace of Almighty Allah (SWT), and when we are given the opportunity to vaccinate our spiritual self, we should take it.
The session was concluded with Salaam recited beautifully by Brother Hammad Mustafa and Dua by Allama Adeel Qasmi. There was no better way to spend New Year's night than in the remembrance of Almighty Allah (SWT) and praising the Beloved Prophet Muhammad (PBUH)!