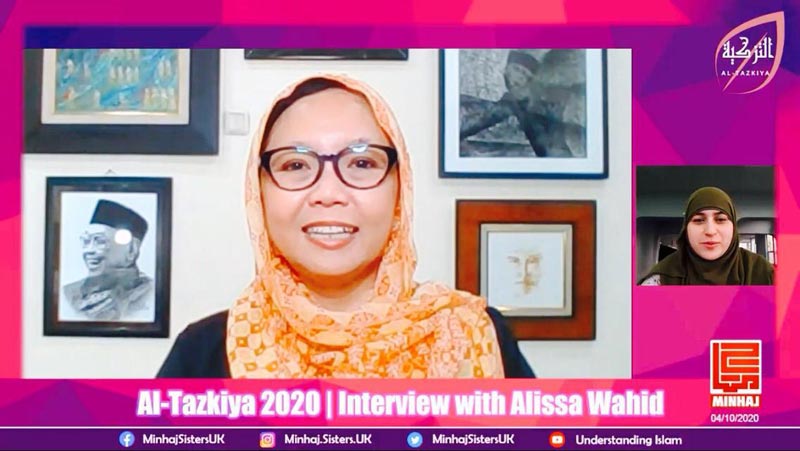 After an amazing first day of Al-Tazkiya 2020, sisters were eagerly waiting for Day 2 to commence. The programme started with a beautiful recitation of the Holy Quran by Sister Rabia Shaheen.
The host, Sister Atikah Parveen, then introduced and welcomed Alissa Wahid (Family Psychologist). Sister Alissa Wahid is the General Secretary of the Family Welfare Agency of the biggest Muslim organisation in Indonesia with around 80 million members across Indonesia. They are mandated to promote family welfare; the Indonesian government have asked her to lead an expert team to develop the Muslim Family Resilience Programme. In the last 4 years, around 500,000 couples have engaged in the programme. She chose this career path to help those around her and this is the way she sees herself contributing to society. She was then asked about experiencing any criticism and how supportive has the society been. She highlighted that criticism is a part of life and is good way to receive feedback and reflect on how you can change. In Indonesia, women are experienced as part of the society and are side by side with their male counterparts. There are Muslimah leaders and heads all over Indonesia and the opportunities are in abundance. She expressed how she can work effectively because of the support. When asked about the issue of mental health within Indonesia, she stated that opening about mental health is still marginalised and that there needs to be a shift in talking about mental health issues.
Within the organisation, they focus on helping families build and promote a stronger foundation for the family. She used the analogy that a strong construction will help keep the family strong as well and the challenges will be more manageable. We have been provided guidance on this by the Holy Prophet (SAW) and the Holy Quran. There are pillars that hold family such as the importance of dialogue, acceptance of situations, and treating one another with dignity. These pillars support the roof of the building which is the wellbeing of each member of the family. Only with these strong pillars and foundations are we able to achieve the goal of marriage and family. She concluded the interview by emphasising that we need to live with a diverse community to help make the exchange of cultures and values quicker. We need to conserve the good traditions but also embrace modernity and if we Muslims want to uphold the teachings of Islam, then we need to strengthen the solidarity within Muslims, with people living on the same land and with humans all over the world.