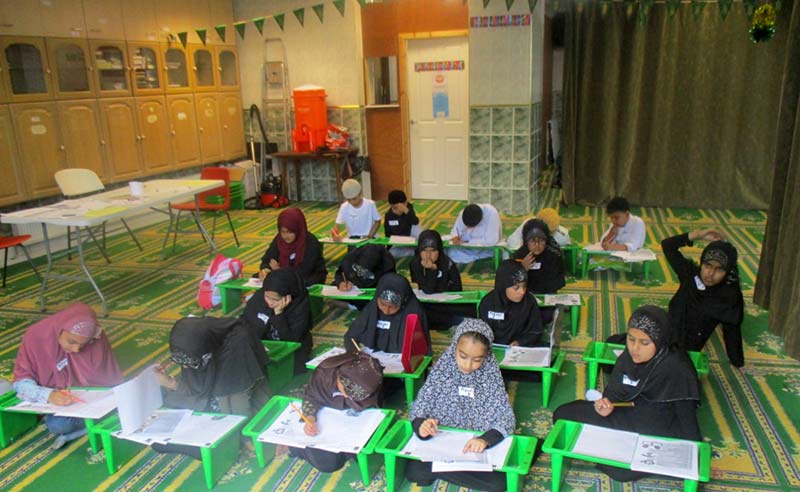 MWL Accrington have successfully completed Islamic Summer Camp 2019. The Summer Camp was held at Accrington Raza Jamia Masjid delivered by devoted MWL Media Secretary North Secretary Bajee Zainab Kamran and MWL Members Bajee Farzana Ahmed and Mohmina Nasir.
Over the past five weeks 45 children from ages 5 to 13 have enjoyed learning about the essential pearls of Islam through fun and interactive classes. Children have learnt many topics including the Seerah of our Prophet (s.a.w) Importance of Tajweed and the importance of the correct recitation of the Holy Quran, The importance of the cleanliness of the Mind, Body and Soul, Ahadith of our Glorious Prophet (s.a.w), including the importance of having pure intentions, the importance of being Trustworthy and Honest, appreciating the blessings of Allah and the different types of charity.
Furthermore, the children took part in many extra-curricular activities including, sewing workshop, bookmark making, handbook making, Eid Party decorations, Mendi and as a special treat a smaller group of 20 adults and children had a fun-filled morning visiting Accrington Train Station where they visited the train station bunker, did many activities about trains and as a bonus went on a free train ride to the next town. The Summer Camp finished with a "Allah Made Everything Nasheed" presented by our younger children and a presentation ceremony where each child was awarded a certificate and a good bag of treats. Overall, a very productive and enjoyable Summer Camp with excellent and positive feedback provided by all children and parents.