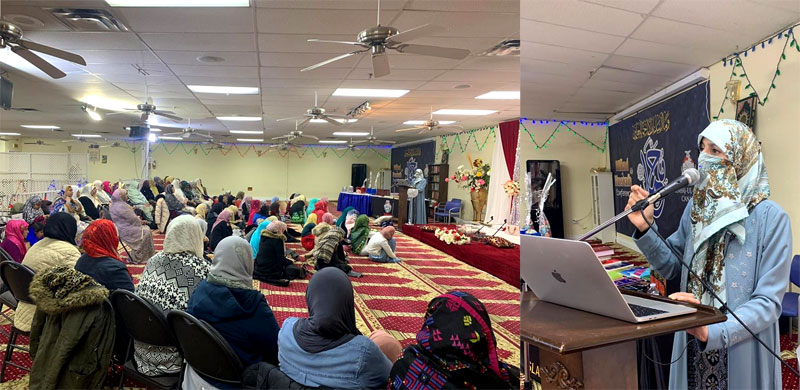 Minhaj-ul-Quran Women League Canada organized Mawlid-un-Nabi ﷺ conference at Mississauga Muslim Community Center, Canada on 17th of November. The conference was organized exclusively for sisters who attended the conference in great numbers. Dr. Ghazala Hassan Qadri was the chief guest and main speaker of the conference.
The conference began with the recitation of the Holy Quran followed by a Naat of the Holy Prophet ﷺ. Dr. Ghazala delivered an important lecture on the significance of celebrating Mawlid-un-Nabi ﷺ and explained why is it so important to be attached with the Holy Prophet ﷺ as a person. Narrating beautifully from the various verses of Holy Quran, she emphasized upon the significance of celebrating the festivity and spiritual blessings of the month of Rabi-ul-Awal.
She began by asking as to why did Allah ﷻ sent Buraq for His beloved ﷺ and why did He want such a close proximity? On this, she explicated that Allah ﷻ wanted to give a practical demonstration, showing the Ummah, that just as Allah ﷻ called Holy Prophet ﷺ and made those extra and special arrangements for that profound meeting, then we should also make extra efforts to express our love for Him ﷺ.
Dr. Ghazala then moved on to another important point which she explained by delving into the Hikmah of Allah's ﷻ Sunnah as He not only called His beloved ﷺ to the most special place in heaven but also declares it in the Holy Quran. She said that it was for us to become aware that how integral is Holy Prophet ﷺ, not just to Islam but to Allah ﷻ Himself. Allah's ﷻ extreme reverence to His beloved ﷺ makes it clear that this love is the crux of Deen, the Axis of Islam and the pivotal focus of believes and our Aqaid.
Then she touched upon need and importance of having attachment with the Holy Prophet ﷺ as a person. She then explained that we live in time when there are so many other distractions and temptations that lead us away from Allah ﷻ and also from the message of Islam and we are getting attached with so called role models particularly through social media which impact our lives visibly. Then she related it with the Fitrah of human being to follow people and learn from them. Therefore, she maintained that people and personalities are important facets of individual's life.
She then explicated that who are the people one should follow. To answer this, she quoted verses from Surah Al-Fatiha where Allah ﷻ tells us to follow the path of those who are blessed and refrains us to follow those who earned the anger of Allah ﷻ and have gone astray. She summarized her point by saying that the meaning of straight path is actually the personification of the attachment to the personality.
While concluding her lecture, Dr. Ghazala emphasized that it is Milad un Nabi ﷺ that we should celebrate to attain close proximity to Allah ﷻ and His beloved Prophet ﷺ. She stated that this is the reason why we celebrate Milad un Nabi ﷺ and promotes this culture through the platform of Minhaj-ul-Quran across the world.