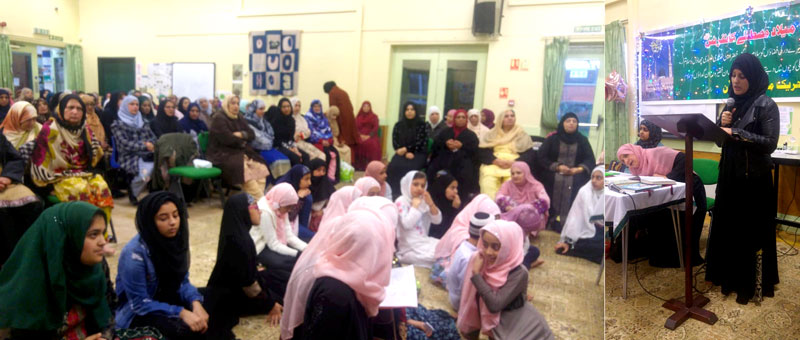 Alhamdulillah, a very successful event was held by MWL Rochdale to celebrate the birth of our beloved Prophet Muhammad ﷺ. It was hosted by Baji Nasreen (President of MWL Rochdale ) and other sisters.
After recitation of beautiful verses of the Holy Quran by Baji Nasreen, some heart touching nasheeds, naats and speeches were performed by sisters in Rochdale and young kids.
Our guest speaker Ifrah Kausar from Bradford enlightened the participants with Seerat-un-Nabi ﷺ and how the Holy Prophet ﷺ treated other people and his wives especially.
Our second guest speaker, sister Zahra Batool, also delivered an inspiring and emotional speech about the noor and beauty of Prophet Muhammad ﷺ.
Sister Shamim introduced the Islam for Kids Syllabus, the books where made available for purchase.
There was also a stall of Islamic books and scarves for people to buy. Masha'Allah we sold 18 full sets and 26 single books and also we raised good amount of money for poor and needy people.
Baji Nasreen, President of MWL, concluded the programme with salat-o-salam and an exceptionally spiritual dua.
The Milad un Nabi ﷺ programme was a huge success and was attended by over four hundred sisters of all age groups and young kids.
At the end of the programme, the food was served to all attendees.