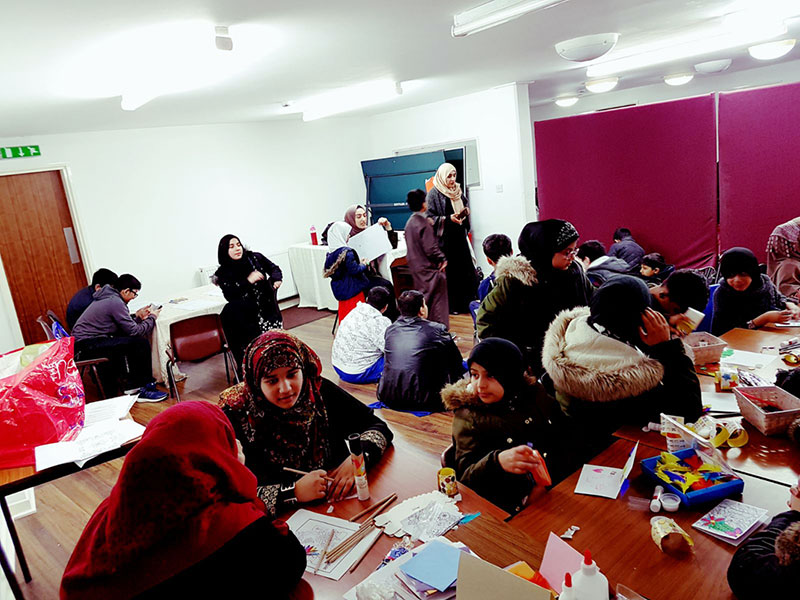 Minhaj Sisters Walsall hold a study circle every Saturdays for children aged 6-13 years. The aim of these study circles is to build children's confidence and to encourage them to reconnect to Allah and the Prophet (PBUH), through basic and fun learning.
Alhamdulillah after four months of regular study circles, we decided to hold a children's Mawlid event, in which the children who attend the study circles were to host the entire event themselves from the beginning with Quran recitation to the end with Dua.
Sister Halima did a superb job of being the stage secretary, introducing everyone in a good manner. So a big well done to Sister Halima.
Brother Shoaib started the programme with a beautiful recitation of Surah Ad-Duha, followed by an English translation which was followed by Hamd sung by Sister Maryam, Sister Maha, Sister Hafsa and Sister Halima.
Sister Maryam praised our beloved Prophet Mohammed (PBUH) in the form of a Naat. She has been blessed with a beautiful voice. Brother Adam went on to read a Hadith from Dr Muhammad Tahir ul Qadri's Mawlid book - MashaAllah he spoke beautifully and with a clear voice.
Minhaj Sister's advertised the Mawlid to register children and arrange fun activities for them.
During the course of the event the children were designated a separate area to do their own activities supervised by an adult and the adult members of the audience enjoyed their own activities led by Sister Rosina Nawaz (Minhaj Sister's Midlands co coordinator) and Sister Ranii Hussain (Minhaj Sister's Midlands deputy co coordinator).
Incorporated into the event was a Naat and Nasheed competition. Eight children entered the competition, MashaAllah and they all praised our beloved Prophet Muhammad (PBUH) with their beautiful voices. Our judges, Sister Rosina and Sister Rani, where so overwhelmed that they found it very hard to choose the top three.
So they rewarded all the runners up with a gift too. A short clip of Dr Muhammad Tahir ul Qadri in English was played 'Allah loves the Soft Hearted' and this was followed by a beautiful explanation given by Sister Hafsa.
The children from the study circle then acted out a role play called '20 Golden Coins'. Sister Maha did a tremendous job of narrating the whole play. The play was all about honesty and Sister Maha also went on to tell the audience the moral of the story. Following this Sister Maryam and Sister Halima quoted verses from the Glorious Quran and Hadiths on honesty.
The event was concluded with Salaam led by all the children from the study circle and a beautiful dua by, Sister Mehreen. The food was served to everyone at the end.
Alhamdulillah with the success of this Mawlid more children have registered to join our study circle and due to this, we will be moving the venue from Sister Seema's house to the youth centre in Idaara Minhaj ul Quran Walsall.