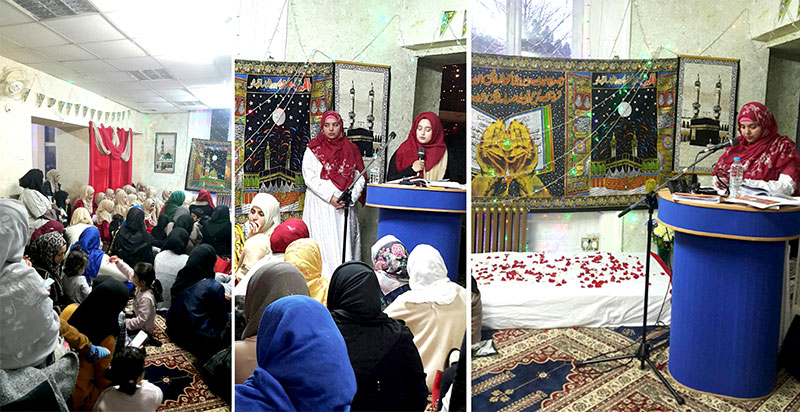 Rabi-ul-Awwal, one of the most blessed months of the Islamic calendar, and the time of the arrival of our beloved Prophet Muhammad ﷺ in this world.
Celebrating the blessed month of Rabi-ul-Awwal and the arrival of our most beloved Prophet Muhammad ﷺ, MWL Manchester organised 12 daily halaqats in the first 12 days leading up to the blessed day of 12th Rabi-ul-Awwal. In addition to this, they held their annual Mehfil-e-Milad on Saturday 2nd December 2017.
A very large gathering of women and children attended the annual Mehfil-e-Milad held at Minhaj-ul-Quran, Manchester.
The programme commenced with Tilawat-e-Quran beautifully recited by Sister Amina Ajmal (MWL Manchester, Welfare Secretary). Following this, in the remembrance and love of our most beloved Prophet Muhammad ﷺ beautiful naat-e-paak were recited by Sisters Madiha and Asifa with duff. The atmosphere was warming, and everyone joined in the recitation with love and affection. Further naat sharif was recited by young children attending Minhaj-ul-Quran Manchester to learn.
Guest speaker Sister Raja Rubina Shaheen (MWL Bradford, President) delivered a heart-touching talk in Urdu about Milad-e-Pak.
Sister Riffat (MWL Accrington) led zikr and a beautiful dua at the end of the programme. MWL Manchester served food to all attendees and visitors.