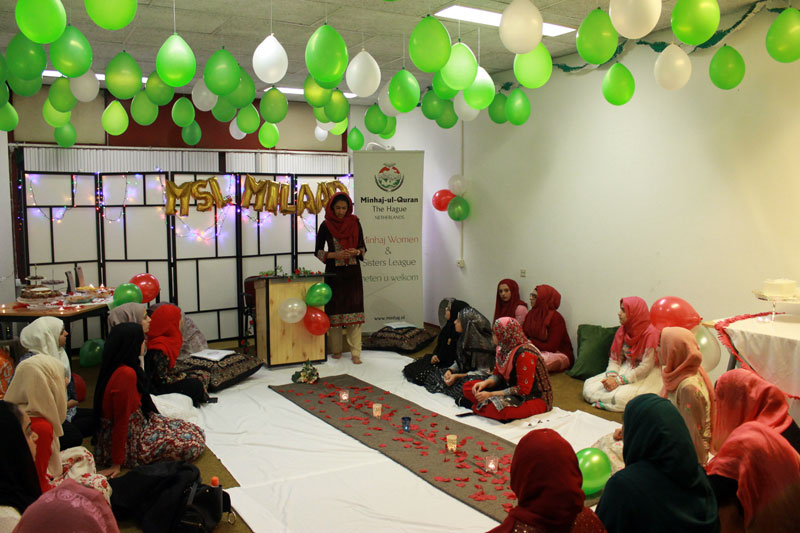 By the Grace of Almighty Allah (SWT) and His Beloved Prophet (peace and blessings be upon him) Minhaj Sisters League (The Hague, Netherlands) organized a Mehfil-e-Milad-un-Nabi named 'Milad Celebration' in the centre of The Hague. The program took place on 23rd of December and started at 6pm until 9pm. Approximately 30 ladies attended this program.
The program was hosted by sister Ramyaa Khan. She welcomed everyone and thanked the audience for attending the event. The program started with an audio tilawat of Surah Rehman. The sisters had the opportunity to let us know beforehand if they were interested to read a naat.
Different sisters read a naat and showed their love for Prophet (peace and blessings be upon him). Special thanks to the sisters Zobia Saleem, Sania ul Haq, Amna Ahmed, Alina Ahmed and the MSL Naat group. After the various naats we paused for a 5-minute break to take some refreshments. After the break, the main lecture would start.
In the program 2 lectures were delivered. The first lecture was by auntie Shabana Ali, a beloved woman in Minhal-ul-Quran The Hague with a lot of knowledge about the deen. The aim of this lecture was to answer questions about why we celebrate the occasion of Milad and how we can answer these questions in our multicultural society.
The second lecture was given by sister Afifa Maqbool. She performed a short lecture in dutch for the sisters in the room. She continued on the reasons why we celebrate the birth of
our Beloved Prophet (peace and blessings be upon him),
Zareen Butt led the salaam along other sisters and the program ended with a dua read by auntie Shabana Ali. Food was served at the end. It was a successful program with positive feedback from the sisters who were present.