(O Beloved!) Say: 'If you love Allah, follow me. Allah will then take you as (His) beloved, and forgive you your sins for you, and Allah is Most Forgiving, Ever-Merciful.' (Al-Quran: 3:31)
On the 9th of December 2017, Minhaj Women League UK held a Seerat-ur-Rasool ﷺ conference in Leicester. The guest speaker at this conference was respected Dr Ghazala Hassan Qadri; an inspirational speaker who has been an advocate for women empowerment, especially within the Muslim community.
The event commenced with the melodious recitation of the Holy Quran from the young and talented sister Muhaimin Fatima (London), who enlightened the hearts of the audience with verses from Surah Mulk. Heartfelt recitations of nasheeds were performed by the nasheed group from Leicester as well as Minhaj Naat Council Derby.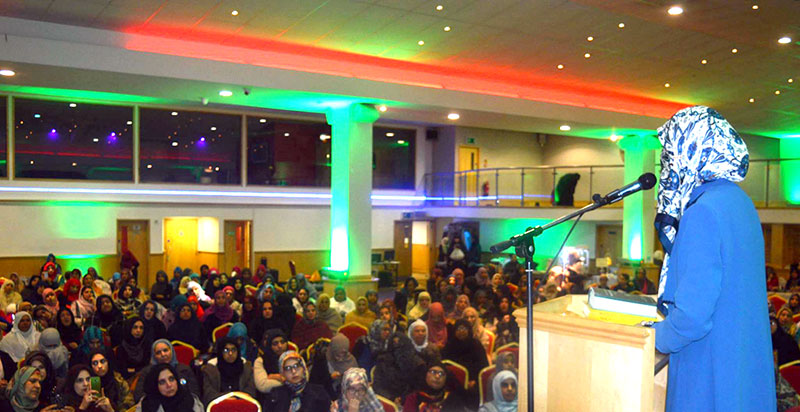 Dr Ghazala Hassan Qadri then took to the stage to enlighten and awaken the hearts of the audience with her powerful and inspirational talk. She started her talk by explaining the importance of having belief in the complete authority of the Holy Prophet Muhammad ﷺ. She explained how the completeness of Iman is with this belief, and with the attachment to the Holy Prophet ﷺ.
Dr Ghazala then went on to explain, using various verses of the Holy Quran, how Allah has signified and exalted the status of the Holy Prophet ﷺ by placing his name next to His own. She spoke about the different levels and types of attachment one should aim to attain with the blessed Messenger ﷺ. She encouraged the attendees to have confidence in praising the status of the Holy Prophet ﷺ and celebrating his blessed birth, as our Iman is not complete until we are utterly and completely devoted to the Holy Prophet ﷺ.
She then explained, how having love for the Holy Prophet ﷺ becomes a means of becoming the beloved of Allah. Reiterating the aims of Minhaj-ul-Quran, Dr Ghazala explained how this organisation is aiming to ignite the light of love for the Holy Prophet ﷺ into the hearts of the Muslims and to strengthen the connection and attachment with the Beloved of Allah ﷺ.
The event ended with Sister Fatima Mash'hadi (President MWLUK) who provided the concluding words, she thanked Dr Ghazala for her time and her words of inspiration. Sister Fatima ended the conference with an emotional Dua.
Minhaj Women League UK would like to congratulate its workers, volunteers and especially the sisters from Leicester for organising a beautiful conference. They would also like to take this opportunity to once again express their gratitude to Dr Ghazala for taking time out and enlightening us with her amazing talk. We pray Allah gives us all the ability to attach ourselves to the Holy Prophet ﷺ and fill our hearts with the love of Allah and His Beloved ﷺ.