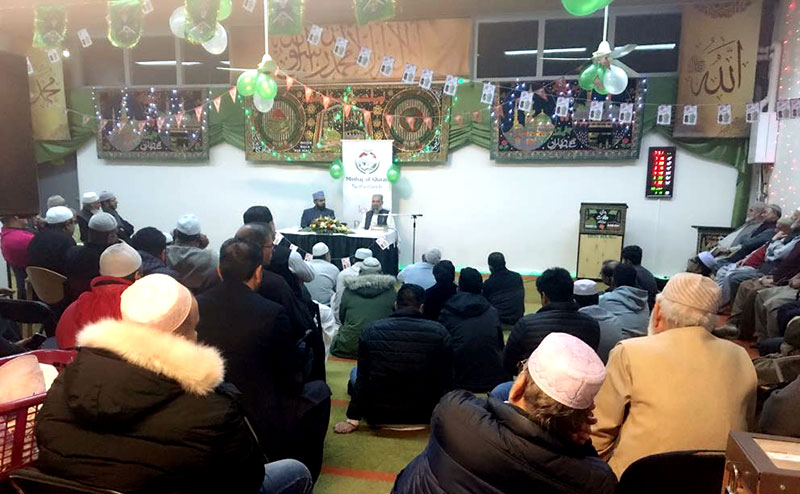 Minhaj-ul-Quran International (The Hague, Holland) celebrated the month of Rabi-ul Awwal in the form of daily gatherings initiated by Allama Hafiz Yasir Naseem. These spiritual gatherings took place during the first 15 days of the holy month Rabi-ul-Awwal and was an open invitation to youngsters, elders, ladies and gentlemen. The 15 days were eventually followed by the grand Milad, which took place on 3rd December.
After the Isha prayer, and collectively reading durood, the daily program started off with Tilawah and Nasheed. After this came the main speech, which lasted for 45 minutes. This year, we were blessed to welcome and listen to the religious scholars and speakers coming from different mosques and organizations. The program ended with Salaam, Du'a and lastly an enjoyable meal, presented by Minhaj Women League.
The program was daily joined by approximately 150 people, including men, women and children. Tilawah and Nasheed were recited by the following people: Sikandar Khan, Saeed Chaudry, Sadiq Butt, Bilal Raja, Sheraz Malik, Rashid Ali and Faisal Mirza.
Led by Allama Hafiz Yasir Naseen, youngsters and students following the weekend education classes organized their own Mehfil-e-Milad on the 25th and 26th November.
Everyone enjoyed getting together for 15 days, to gain knowledge about our beloved Prophet (peace and blessings be upon him) and show their love. May Allah swt accept the presence and effort of everyone who took part in these daily Mehfil-e-Milad!