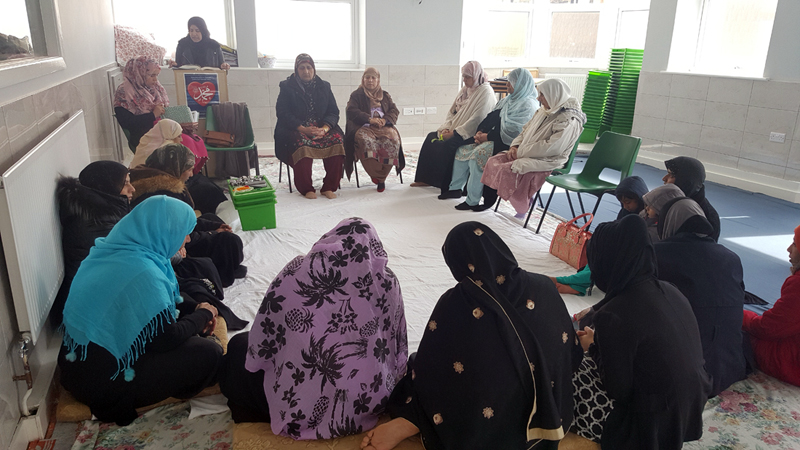 By the Grace of Allah Almighty, Minhaj-ul-Quran Women League Nelson held their weekly Halqat-e-Durood Mehfil on Monday 1st May from 11.00 am to 12.30pm at Minhaj-ul-Quran Centre, Carr Road Nelson.
The Halqat-e-Durood Mehfil followed a set pattern as advised by the founder of Minhaj-ul-Quran, Shaykh-ul-Islam Dr Muhammad Tahir-ul-Qadri, which is also replicated at the other Minhaj-ul-Quran Masjid in Nelson.
The mehfil commenced with all attendees reciting Durood Shareef for approximately half an hour. A special and powerful wazaif was then read by Sister Nasreen Ashraf (MWL Nelson, President). Following this Sister Saimah Andaleeb (MWL Nelson, Tarbiyah Secretary) recited a few verses from Irfan-ul-Quran along with its Urdu translation. Sister Saimah motivated all sisters by reading a few Ahadith from Minhaj-us-Sawi explaining about the countless blessings bestowed by Allah (SWT) upon those who recite Darood Shareef and perform Zikr, and the benefits of the remembrance of Allah (SWT) in congregation. She informed the listeners about the importance of spreading Islamic knowledge in order to encourage others towards the right path.
The mehfil continued with Imam Al-Busiri's Qaseedah Burdah Shareef which was beautifully recited by all attendees led by Sister Parveen Anwar (MWL Nelson, General Secretary). Sister Shagufta enjoined all sisters in a melodious recitation of a naat to bestow blessings upon our blessed Prophet, May Allah (SWT)'s peace and blessings be upon him. The programme reached its conclusion with Zikr, Salaam and a heartfelt Dua read by Sister Shagufta.
All attendees were encouraged to attend weekly Salat-ul-Tasbeeh prayers held at Minhaj-ul-Quran Masjid, Brunswick Street, Nelson, every Friday morning starting at 10.30am. A regular Halqat-e-Durood mehfil is held following prayers. Attendees were encouraged to invite others living locally to the Masjid to allow them to gain benefit and blessings.
Attendees were also invited to attend Quran Tajweed classes which are to be held at both Minhaj-ul-Quran Carr Road and at Brunswick Street Nelson for the benefit of women living in all parts of Nelson. All women were encouraged to attend and invite others to correct their recitation of the Holy Quran. The Tajweed classes are due to take place every Tuesday and Wednesday from 1.00pm to 2.30pm.