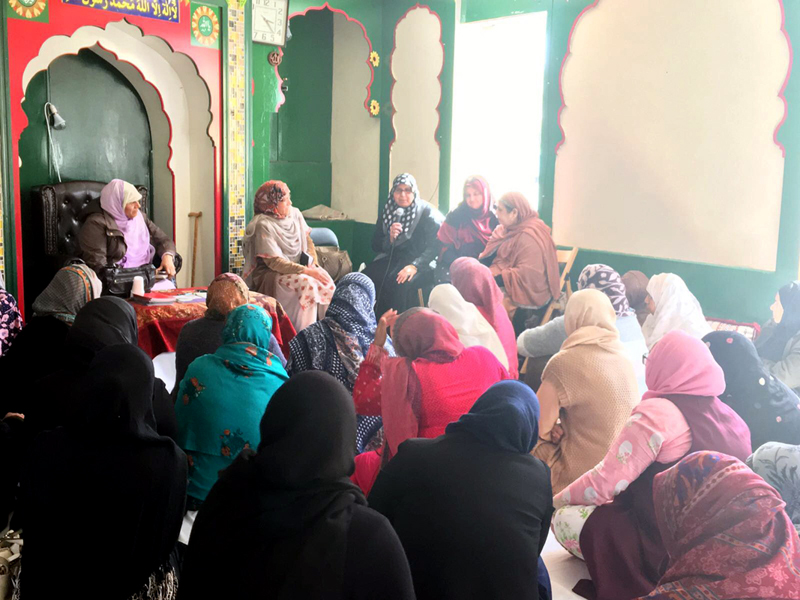 On Sunday, 14th May 2017, MWL Bradford hosted an 'Amad-e-Ramadan' mehfil. Sister Jannat (MWL Bradford, General Secretary) commenced the mehfil and warmly welcomed all attendees. Sister Fazilat (MWL Bradford, Dawah Secretary) prayed Surah Asr in her beautiful voice to open the proceedings of the gathering.
Sister Robina (MWL Bradford, President) praised Allah (SWT) in her melodious voices and engaged the audience in collectively reciting 'Teri Shaan Jalla Jalaluhu.'
Praises were sent on our beloved Prophet Muhammad (SAW) collectively by numerous sisters including Sister Fareeda (MWL Bradford, Membership Secretary), Sister Fazilat (MWL Bradford, Dawah Secretary) and Sister Jannat (MWL Bradford, General Secretary) who recited Balaghal Ula Bikamalihi in front of an emotional and overwhelmed audience.
Sister Jannat took the proceedings forward. She presented a talk referring to Surah Ahzab, verse 56 and encouraged the audience to continuously and persistently recite Durood Sharif and attend Durood Sharif mehfils. Following this, the main naat khawan, Sister Rukhsana was invited to the stage to bless the gathering with spiritually uplifting Naat in her beautiful voice.
The mehfil moved on as Sister Misbah (Minhaj Sisters, Bradford) took to stage and delivered her speech in English on the blessings of giving charity in the month of Ramadan. Including references from Quran and Hadith, Sister Misbah spoke about Ramadan being a unique month for everybody as each individual focuses on bettering different aspects of themselves, and one of the ways of doing so is through giving charity. She encouraged the audience to give in this blessed month in various ways, even if it be as simple as smiling at one another. Sister Misbah emphasised how regularly giving charity helps foster good character and generosity in this temporary world.
After the English speech, scholar Hafiza Fauzia was invited to deliver her speech in Urdu. Using references of a collection of verses from Surah Baqarah regarding the blessings of Ramadan, she spoke firstly about the changing in the method of fasting, from time for Iftar only to time for Suhoor and Iftar. She further spoke of how the Prophet (SAW) would gather his family and Sahabah on separate occasions and ask how preparations for Ibaadat (worship) in Ramadan would be done.
Hafiza Fauzia informed the audience of the importance of correctly worshipping on the night of Laylatul Qadr - Night of Power, as the worship on this night is equivalent to that of 1000 months. She also mentioned how reward is increased in this month, so we need to carefully observe this month and act rightfully, and implement this is in our lives even after the month of Ramadan.