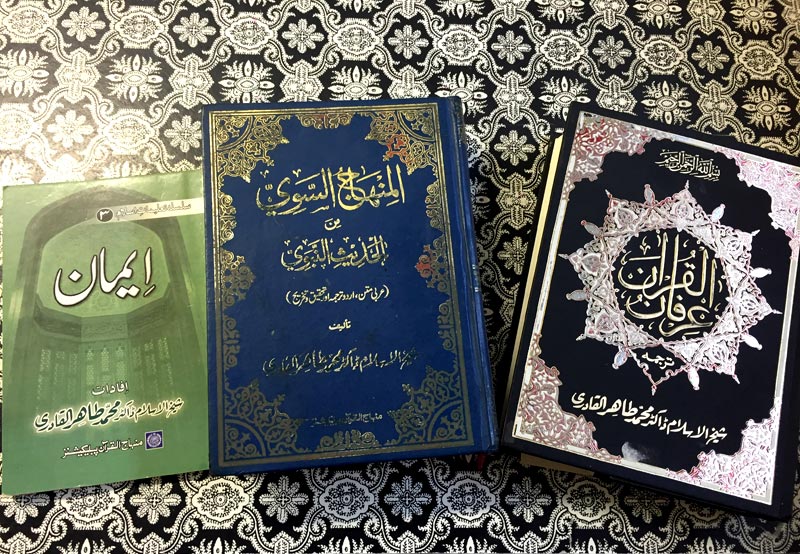 On the 27th of September 2016, a combined Halqa-e-Durood Mehfil and Eid Milan Party was organised by MWL Huddersfield at Sister Sidra's residence, who is MWL Huddersfield President.
Many sisters from the local community attended and enjoyed the celebrations. Sister Haleema, who is a teacher in the local Ghausia Mosque attended this blessed gathering.
Before the start of this programme, the sisters offered a congregational prayer of Zuhr.
The Mehfil was started with the glorious recitation and translation of the Holy Quran by Sister Haleema. Then sister Sidra narrated a Hadith and provided a simple explanation from the Al-Minhaj al-Sawi min al-Hadith al-Nabawi book compiled by His Eminence Shaykh ul Islam Dr Muhammad Tahir-ul-Qadri.
After Minhaj Durood's recitation the number of Durood Sharif was noted by the Dawah Secretary. Minhaj Wazaifs were recited by all present members led by Sister Sidra followed by the recitation of melodious Qaseeda-Burda-Sharif.
After the Dhikr, Sister Shumaila, MWL Huddersfield Dawah Secretary, Sister Ruqiya, Sister Kiran, Sister Khalida, Sister Asma recited variety of melodious Naats by following Sister Sidra to offer our gratitude to the Prophet (PBUH).
May Allah Subhan-Wa-Ta'alah give us more passion and enlighten our hearts with remembrance of Allah and our beloved Prophet (PBUH).
The Mehfil was concluded with Salaam upon the Holy Prophet (PBUH) and a heartfelt Dua.
Members of MWL Huddersfield brought different dishes like Biryani, Kebab, Chaat and Kheer that were served to all the ladies.
Reported by: Asma Akram (MWL Huddersfield General Secretary)
Edited by MWL UK Media Team