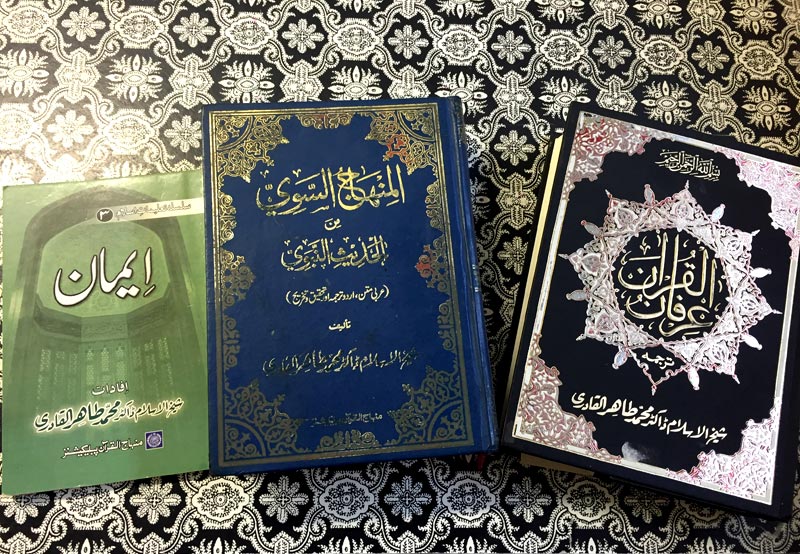 MWL Halifax held its weekly Halqa-e-Durood gathering at the Minhaj-ul-Quran centre in Halifax, which was attended by around 12 sisters.
The event began with everyone reading Durood Shareef. Sister Rubina (MWL Halifax Dawah Secretary) recited from the Irfan-ul-Quran with translation in Urdu. This was really beneficial for all of us as we could comprehend what was recited. Following this Baji Jameela (MWL Halifax President) read some beautiful text from Al-Minhaj al-Sawi min al-Hadith al-Nabawi that talked about the benefits you gain and the positive impact from sitting in good gatherings with pious people.
Sister Iftat (MWL Halifax Membership Secretary) read from the Iman book, and discussed the importance of understanding the differences between Iman and knowledge.
After the discussions everyone joined in to recite Qaseeda Burda Shareef in a melodious tone which lifted the atmosphere. This was followed by the recitation of a Naat by sister Iftat.
A small clip from one of Shaykh-ul-Islam Dr Muhammad Tahir-ul-Qadri's lectures was played. This was about the importance of intercession through the Prophet Muhammad (SAW). This was a fundamental part of the gathering as it helped to promote the message of Minhaj-ul-Quran which aims to portray the true message of Islam, the message of peace, love and harmony.
The gathering was concluded with Salaam, Dhikr and Dua by sister Rubina and Baji Jameela. The food was served on the occasion.
Reported by MWL Halifax Media Secretary
Edited by MWL UK Media Team