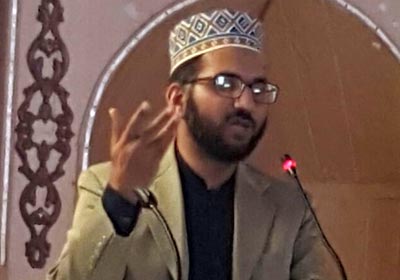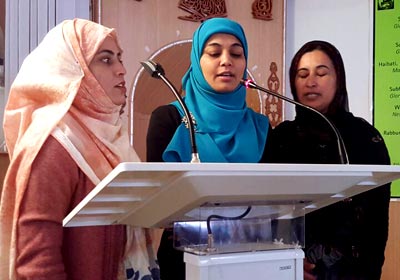 On the 13th Ramadhan, Saturday 18th June 2016, Minhaj Ul Quran Women League, (Valby), organized a conference in the memory of Syeda Fatima Zahra (RA). The gathering was attended by a large number of ladies and children from the surrounding areas.
The programme began in the usual manner with the recitation of the Holy Quran, which was done by a young student of Minhaj-ul-Quran, Zoyah Ali and Mubashir Zaheer Ahmed. Hamd Sharif was recited by Shabana Ahmed whilst Romana Kiani, Hajrah Shah, Neelam Ali, Mahrukh Ali, Maimoona Rahman, Mahnoor Ali, Zainab Zahoor Ahmed, Sumaira and Aishah Iram Ahmed all recited praises on the Holy Prophet Muhammad (SAW). Minhaj-ul-Quran's young student Aroosh Qaiser spoke beautifully about the status of Syeda Fatima (RA).
Qari Zaheer Ahmed also gave a very informative talk about Syeda Fatima Zahra (RA). They said that Allah (SWT) created everything for the Holy Prophet Muhammad (SAW) and that every atom of every creation loves the beloved Rasool (SAW). But if you look into the heart of the Holy Prophet (SAW), you will find immeasurable love for Syeda Fatima Zahra (RA).
In the time of ignorance, when people used to bury their daughters alive, the Holy Prophet (SAW) affirmed his love for his daughter. They explained in the light of Al-hadith that the Holy Prophet (SAW) said, Syeda Fatima Tuz Zahra was a part of his body, and that if anybody upsets her, he in actual fact upset the Holy Prophet (SAW).
Faiza Qayyum did a wonderful job of hosting the whole programme. The young sisters who participated in the programme were given gifts as a show of appreciation and encouragement.
To conclude the programme Shabana Ahmed, Romana Kiani and Aishah Iram Ahmed presented Salaam on the Holy Prophet Muhammad (SAW). Mubashir Zaheer Ahmed led a special Dua and the programme finished with Iftar refreshments being distributed.
Reported by: Shabana Ahmed