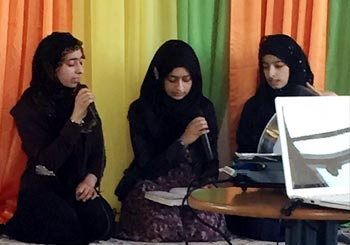 Minhaj Women League (North Zone) held a family Charity Iftar Meal at the Pakistan Muslim Centre, Sheffield on the 5th of July.
The aim of the fundraiser was to create awareness of the work of Minhaj Welfare Foundation (MWF) and to raise funds for the 'Water for All' and 'Aghosh Orphan Care Home' projects amongst 150 guests.
Brother Abdul Kabeer was the stage secretary for the night and he opened the event by inviting Brother Yasser to commence the event with eloquent recitation of The Glorious Qur'an. The event was further blessed with melodious recitation of a Naat by Sisters Kiran and Kanwal Tabassum.
Sister Shahida-ul-Haq, MWL North Zone Welfare Secretary, introduced the charitable work of Minhaj Welfare Foundation. She recited and translated verse 2:195 of The Holy Quran.
"And spend in the way of Allah and do not throw (yourselves) with your (own) hands into destruction (by refraining). And do good; indeed, Allah loves the doers of good."
She presented heart touching documentary to highlight the projects 'Water for All' and 'Aghosh Orphan Care Home' projects, to demonstrate the much needed work that is currently being done in Pakistan to support orphans and provide water in drought stricken areas.
To follow on from this 'Minhaj Naat Council Sisters' from Derby recited beautiful Naats to lighten the hearts of all guests.
Scholar Dr. Masood Al Azhari then spoke about the significance of donating money to the less fortunate, with a special emphasis on the rewards for helping the orphans in light of the Glorious Quran and Hadith.
Councillor Maroof highly praised the founder of Minhaj-ul-Qur'an His Eminence Shaykh-ul-Islam Dr Tahir-ul-Qadri for all the work that the organisation does to support the needy, also for the strong network and presence of MWL in Sheffield, Rotherham and Tinsley.
Brother Nasser Kareem recited some beautiful Naats to engage the audience.
Sister Nasreen Akhtar, President MWL North Zone, delivered a motivational speech on the works of MWF and inspired guests to donate to these worthy projects of 'Aghosh' and 'Water for All'. Sister Nasreen Akhtar and Brother Adnan Sohail, Projects Manager MWF, initiated the fundraising.
All the guests were thanked for participating in the fund raising and a Dua was recited. An Iftari meal was served to all the guests and with this the programme concluded.
Reported by Ehram Fatima MWL North Zone Media Secretary